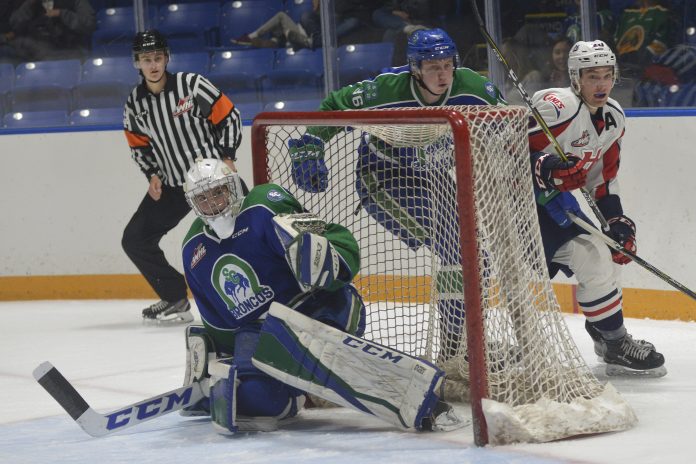 After scoring only twice in their first three games, the Swift Current Broncos broke out for five unanswered goals to conclude the Western Hockey League preseason with a 5-1 victory over the visiting Lethbridge Hurricanes on Saturday.
Rookie Matthew Culling led the Broncos with two goals and one assist and Isaac Poulter made 23 saves in goal.
The Broncos were outshot 12-4 in the opening period and allowed the first goal when Ty Prefontaine scored on the power play for the Hurricanes.
The Broncos spent much of the second period on the power play and outshot the Hurricanes 18-3 in the stanza.
The Broncos took advantage of an Alex Cotton boarding major in the second period to score twice to take the lead. Newcomer Alec Zawatsky fired home a point shot to open the scoring for the Broncos and then Ben King scored on a cross-ice pass 56 seconds later for his first of the preseason.
The Broncos cemented the win with three goals in the third period to send a crowd of 904 away happy.
Culling added to the lead when he knocked home a rebound only 32 seconds into the final period. Tanner Nagel scored from his knees on the backhand to make it 4-1 and then Culling slipped a puck home from in tight to close the scoring.
The Broncos had lost 7-0 in Lethbridge one night earlier to fall to 0-3 in the preseason.
"It was a lot better," said Head Coach and Director of Hockey Operations Dean Brockman. "Obviously when you lose as bad as we lost you hope for some response. The first period didn't show it, but I thought as the game wore on we got better and better and better."
Culling finished the game with two goals and one assist in his final chance to impress the coaches.
"Honestly it was not me, but more my teammates kinda being in the right place at the right time. They were working hard to get me the puck and it just worked out that way, so I'm thankful for that."
The Broncos will open the 2018-19 WHL regular season on Friday when they host the Saskatoon Blades.