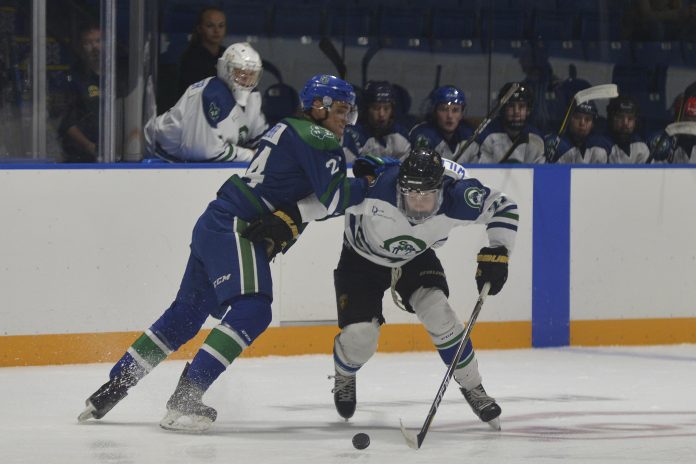 Team Blue scored the first three goals in a 3-1 win in the Swift Current Broncos annual Blue & White Game on Thursday afternoon.
Matthew Culling scored in the first period, Logan Foster tallied in the middle stanza, and Mitchell Vaillant counted in the third period for a 3-0 lead.
Brayden Shaw replied in the third period for Team White.
Jordan Fairlie and Ashton Billesberger each played scoreless periods, while veteran Joel Hofer allowed the only goal for Team Blue.
Isaac Poulter, Parker Sawka, and Jordan Frey each allowed one goal for Team White.
The Broncos will hit the road on Friday to face the Regina Pats to open the 2018-19 Western Hockey League exhibition schedule.
The Broncos announced that they had signed two players on Thursday.
The Broncos announced the signing of Fairlie prior to the intra-squad game. The 15-year-old from Fort St. John, BC was a training camp invite after posting a 3.73 goals against average and an .896 save percentage in 21 games for the Okanagan Hockey Academy Elite 15 in the Canadian Sport Scholl Hockey League.
They also forward Sam Schofield to a WHL Standard Player Agreement. The Yellowknife, Northwest Territories product skated for the Burnaby Winter Club Elite 15s in the CSSHL last season and finished with 27 points in 34 games.