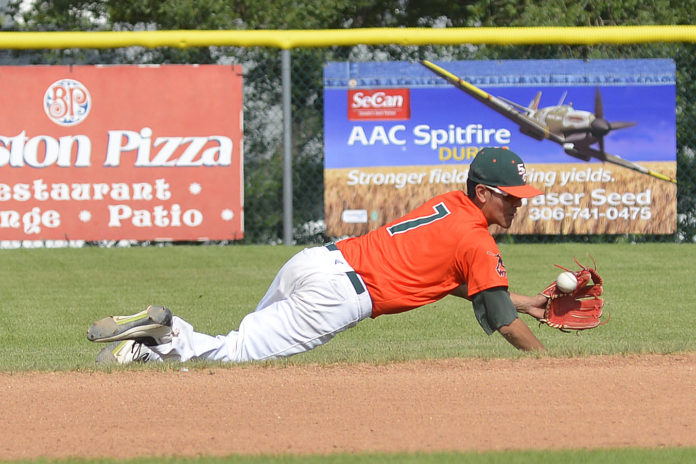 The Swift Current 57's wrapped up the Western Major Baseball League regular season with a 22-9 win over the visiting Yorkton Cardinals on Sunday.
The meaningless contest featured 32 hits, 18 walks, and 12 different pitchers as both teams had a little fun in the final game of the regular season.
Yorkton used a total of seven pitchers, including Ryne Niemi, who got the final two outs during a game that he played seven different positions. He allowed four runs to finish the season with a 37.79 earned run average.
Garrett Hawkins got the win for the 57's as he allowed seven hits, three walks, and three runs, only two that were earned. The Biggar product finished the season 4-0 with an impressive 3.13 earned run average.
Myles Miller finished the day with three hits, two runs scored, and three runs batted in to win the WMBL batting title with a .408 average.
"It was really cool," said Miller after finishing with 49 hits in only 28 games. "I've actually never led a league in anything in my life. I just saw an opportunity and I took it. I just tried to stick within myself and not do too much at the plate. I can credit Joe [Carnahan] for a lot. He has helped me a lot hitting-wise also."
Blake Adams walked three times, scored twice, had three RBI, and was hit by a pitch. He led the league with 16 hit by pitches to finish second in franchise history behind Derek McKeil, who was hit 20 times in 2006.
Shortstop Ethan Hunter doubled twice, tripled, scored twice, and knocked two runs home.
First baseman Keil Krumwiede finished with three hits, three runs scored, and five RBI.
Youngster Isiah Campa made his first appearance in the field and hit a home run while finishing two-for-five with four RBI.
The 57's finished with a 28-20 record, while Yorkton fell to 14-33.
The 57's will now meet the Regina Red Sox (26-21) in the WMBL Eastern Division best of five semi-final series, beginning on Tuesday at Mitchell Field.
The 57's lost five of six games to the Red Sox during the regular season, but they have been the better team down the stretch of the 48-game regular season.
"Yeah we are feeling really good," said Miller. "We are just going to try and stick to our game and try and play ourselves every time, rather than worrying about all the other stuff going on that we can't control."