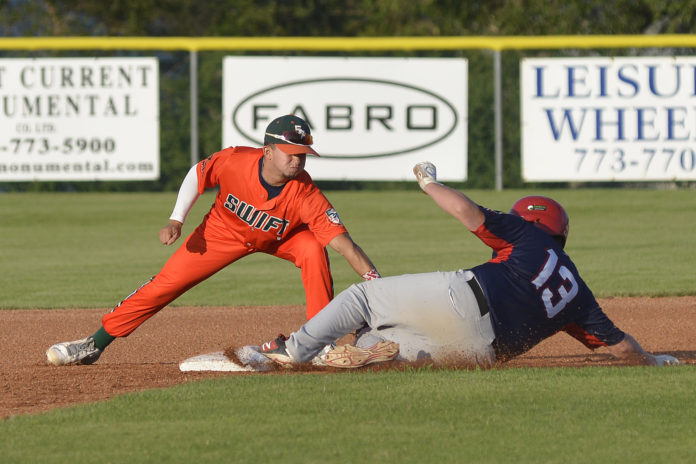 The Swift Current 57's fell 10-6 in extra innings to the visiting Yorkton Cardinals at Mitchell Field on Saturday to end their three-game winning streak. Ryne Niemi hit a grand slam for the Cardinals in the top of the 11th inning.
It was a game of missed opportunities for the 57's as they knocked out 18 hits but left 15 runners on base. The first eight hitters in the batting order finished with at least two hits, including three-hit outings from Blake Adams and Myles Miller.
Yorkton scored twice in the third inning, but the 57's tied it in the bottom of the inning when Miller tripled home Adams and Ruben Rodriquez.
Yorkton regained the lead with three runs in the sixth inning and one more in the seventh.
The 57's made a game of it with three runs in the eighth inning. Keil Krumwiede singled home Ethan Hunter, Ben Komonosky scored on a Mitch Dean sacrifice fly, and Adams singled home Krumwiede to make it a one-run ballgame.
The 57's forced extra innings with a run in the ninth inning. Miller doubled to lead off the inning and tied the game on a single by Komonosky. They would load the bases with one out but were unable to bring the winning run home.
Starter Isiah Campa allowed seven hits, two walks, four runs, only three that were earned, while striking out for over five innings.
The 57's fell to 28-19,while Yorkton improved to 14-32.
The 57's will conclude the regular season on Sunday at 2:05 p.m. against the Cardinals at Mitchell Field.