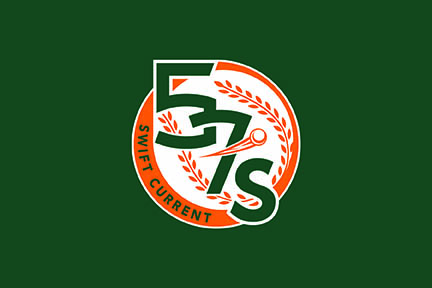 The Swift Current 57's got big nights from Ethan Hunter and Myles Miller and took advantage of five errors in an 8-7 win over the Melville Millionaires. The 57's scored the opening six runs as Hunter finished with three hits and three runs scored and Miller contributed three hits and two runs batted in.
The 57's got out to a quick start when Hunter doubled home Blake Adams on the third pitch of the game and then Keil Krumwiede singled home Hunter for a 2-0 lead in the first inning.
The 57's stretched the lead with a four-run second inning. Hunter singled, stole a base, and then scored on a Ruben Rodriquez double. Miller quickly singled Rodriquez home and then scored on an Anthony Stewart single. Stewart would then score on an error.
The 57's added a seventh run in the fourth inning when Miller singled home Hunter.
The Millionaires fought back with three runs in the fifth inning to cut the deficit to 7-4.
The 57's added an insurance run in the eighth inning when Blake Adams walked and eventually scored on a balk.
Evan Pontley got the win after allowing seven hits, two walks, and five runs, three that were earned, while striking out six over six innings.
Spencer Koelewyn added two scoreless relief innings and Krumwiede earned the save during an adventurous ninth inning in which the infield misplayed a pair of towering fly balls to allow two unearned runs to score.
The 57's improved to 25-19 to move past the Regina Red Sox for second in Western Major Baseball League Eastern Division with four games remaining in the regular season, while Melville dropped to 12-32.
The 57's will rematch with Melville on Thursday in their final road game of the regular season.