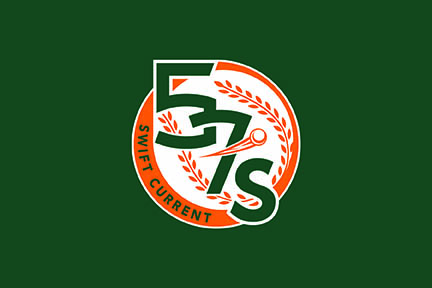 Three Swift Current 57's pitchers held the host Moose Jaw Miller Express to four hits and leadoff man Blake Adams hit two home runs in a 12-2 win on Sunday. The 57's moved into second spot in the Western Major Baseball League's Eastern Division with their 10th win in the past 11 games.
The 57's jumped out to a 5-0 lead in the second inning on two-run singles from Anthony Stewart and Ruben Rodriquez and a bases loaded walk from Nick Canas.
Adams added a solo home run in the fourth inning. Canas also scored on a balk to make it 7-1.
Adams added his second home run of the game in the eighth inning. Keil Krumwiede added a run in the ninth inning on a wild pitch and then Ben Komonosky scored on an error. Stewart capped the four-run inning with a two-run home run to plate Ethan Hunter, who finished the night with three hits. Stewart finished the evening with two hits, two runs scored, and four runs batted in out of the nine spot in the batting order.
Garrett Hawkins allowed only solo home runs to Brooks Benson and Ty Schindel while striking out seven over five innings in the win.
Aaron Pugh added two scoreless innings of relief for the 57's. Spencer Koelewyn also added two scoreless innings to close out the win.
The 57's improved to 24-18 with six games remaining in the regular season, while Moose Jaw dropped 20-22.
The 57's will visit the Regina Red Sox on Monday in a crucial playoff positioning meeting.