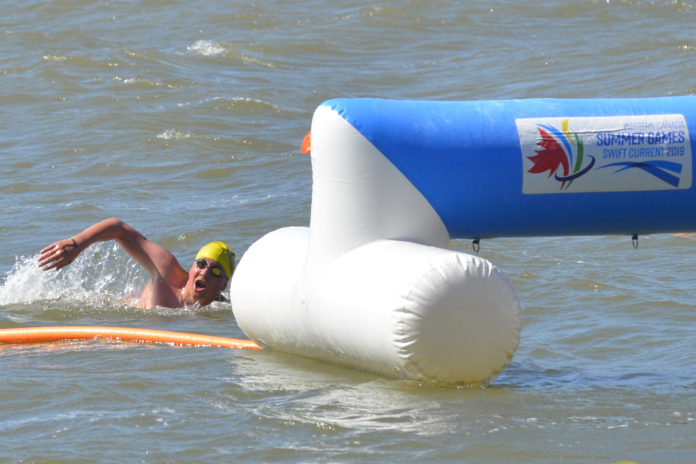 Both swimmers and event organizers alike came away from the South Saskatchewan Open Water Classic with some lessons learned on Sunday. The test event for the 2019 Western Canada Summer Games was held at the Saskatchewan Landing Provincial Park Main Beach, the first open water event of its kind in Saskatchewan in over 25 years.
"The wind was more than we wanted," said Ken Duncalfe, event coordinator for the Swift Current Barracudas Swim Club. "But I got thinking about it and I would rather have the wind today and we learned how to deal with it. We learned for next year. If it was calm today and everything went simple we wouldn't have learned as much right. With these conditions we were able to learn a lot. We are going to be able to take this information after we're done and be able to sit down and [discuss] what worked and what didn't. That's exactly what we wanted. This is the reason we're having this event the year before the Games so we can work out these kinks. That's why we wanted to it."
The athletes adapted early in the event after the male swimmers encountered strong winds as they veered off course in the first leg of the opening race. The female swimmers made the adjustment from the starting line in the ensuing race.
"You have to keep in mind that the majority of these swimmers are between the age of 12-14 and none of them have ever done open water before, never," noted Duncalfe. "This is their first time doing it. An event like this hasn't happened in their lifetimes, so this is all new to them. I seen a lot of kids coming in, they were smiling. I love that. This was a huge success in my eyes. We're not done yet, but this has been a huge success."
Sunday's event featured racing in youth and adult divisions with 1,500 metre and 3,000 metre races for male and female swimmers. A total of 30 swimmers from clubs across the province entered the water.
Swift Current's Griffin Duncalfe, 14, placed first the 1,500 Metres in his age group and was second overall amongst male swimmers.
"The last 500 was tough because the waves kept going over top of me," he explained. "But the second 500, it was alright because the waves were pushing me down, but I couldn't really see the buoy. So that was tough, I didn't really know where I was going. The first one, I just went loose, felt good I guess."
The veteran Barracudas swimmer was attempting his first open water competition, but was keeping an open mind heading into the event.
"I just wanted to have fun I guess. I wanted to finish, so I went loose the first kilometer and then I gave it everything I had my last 500."
"It was fun, I liked it," said Griffin Duncalfe, who said that he would like to continue swimming open water events.
"Yeah I would like to. Probably not like 3K's, because that's tough. 1,500s I like, they're fun I guess."
The event was an enormous volunteer undertaking, including WCSG personnel, boats and staff from the RCMP, Conservation Officers and Saskatchewan Environment, and the City of Swift Current Fire Department.
"We have got volunteers that I didn't even know two days ago and here they are coming in. We had people calling us wanting to be volunteers," explained Ken Duncalfe. "Honestly, I think we probably need a few more, just with the way things are looking as we get a chance to step back and take a look at this we probably need a few more to make this perfect. But you live and you learn."