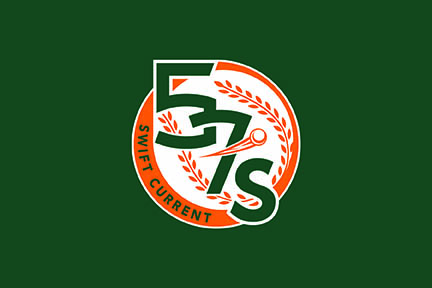 The Swift Current 57's continued their dominance over the Weyburn Beavers at Tom Laing Park with a 5-3 road win on Sunday.
The 57's have now won five straight games after an unexpected five-game losing streak. They have beaten the Eastern Division leading Beavers in all three games in Weyburn this season.
Garrett Hawkins earned the win after holding the Beavers to five hits, two walks, and two runs, while striking out three over six innings. The 6'5'' Biggar product improved to 2-0 with a 2.30 earned run average in six appearances this season.
Brock Gilliam, Tommy Steier, and Spencer Koelewyn all worked in relief to preserve the win.
Second baseman Ruben Rodriquez paced the offense with four hits, including two doubles, one run scored, two runs batted in, and a stolen base. The El Paso, TX native is batting .583 in three games since joining the 57's.
Myles Miller continued to produce with one hit, one walk, one run scored, and one RBI. Nick Canas added a two-hit outing with a double and a run scored.
The 57's moved into third spot in the Eastern Division with a 19-17 record, while Weyburn remains first at 25-9.
The 57's will host the Yorkton Cardinals (8-25) on Monday at 7:05 p.m. at Mitchell Field.