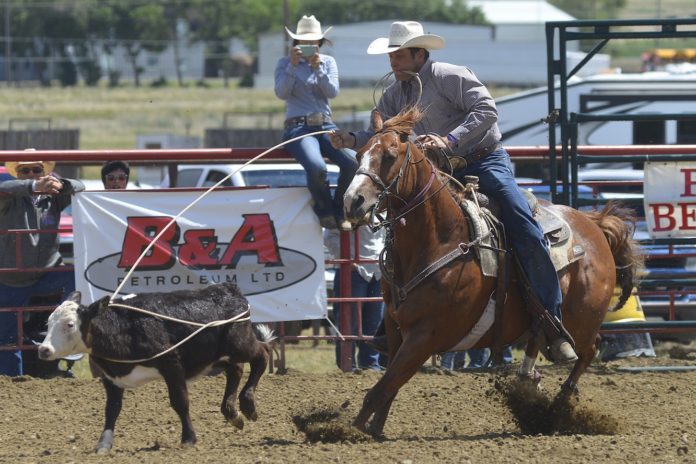 Southwest cowboys win four of eight events at the Frontier Days Rodeo in Swift Current on June 29-July 30.
Swift Current's Jeremy Dillon led four Southwest cowboys in the money in Saddle Bronc. He won the event with a 76-point ride on Law & Order for $913. Maple Creek's Adam Gilchrist was just one point behind with 75 points on Jarrett for $756. Piapot's Casey Bertram tied for third with 74 points on Wintering Hills for $519. Maple Creek's Mike Gordon followed in fifth spot with 71 points on Smoke Signal for $283.
Mankota's Shawn Williamson won Tie Down Roping in Swift Current in 8.7 seconds for $1,117. Blaine Switzer thrilled the hometown crowd when he tied for sixth in 9.5 seconds for $243.
Waldeck's Tee McLeod picked up the win in Steer Wrestling on the final day when he finished in 5.7 seconds for $1,159. Swift Current's Dusty Caragata was also in the money in eighth spot in 14.2 seconds for $100.
Kyle's Kade Cheney also won Novice Bareback at Frontier Days with a 70-point ride for $280. Maple Creek's Blake Link placed third with 66 points for $140.
Maple Creek's Brady Bertram added a second place finish in Bareback at Frontier Days. He rode Lori Darlin for 79 points and $669. Consul's Monty Koopman tied for fifth with 73 points on Bahama Mama and $195.
Waldeck's Mallory Mallert also placed second in the Ladies Barrel Racing field in 16.72 seconds for $1,494. Jessica Fitzhenry (Coaldale, AB) won the event in 16.63 seconds.
Shamrock's Kevin Turner worked with Kyle Chappel (Gravelbourg) to place second in Team Roping in 5.6 seconds for $2,448. Swift Current's Chad Feil and Maple Creek's Christian Brost were fourth in 6.6 seconds for $1,713.
There are CCA rodeos in Weyburn, Moosomin, Wood Mountain, and Kelliher this weekend.