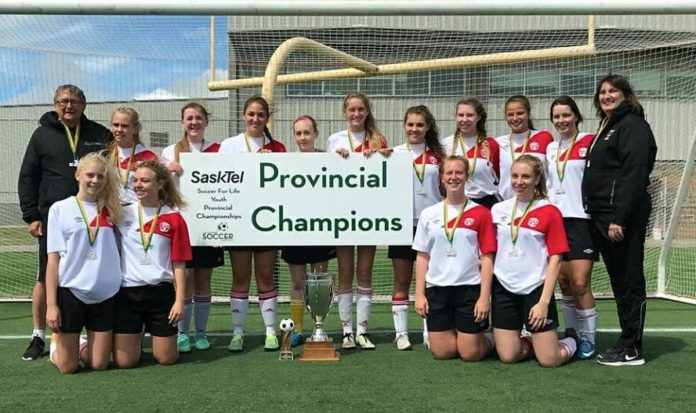 Five Swift Current United Soccer Club teams took part in the Saskatchewan Soccer Association Soccer For Life Provincials over the weekend, highlighted by a provincial title from the Under-19 United Girls.
Three girls teams took part in Provincials in Saskatoon over the weekend. The U19 United Girls won three straight one-goal games to win gold at Provincials.
They opened the tournament with a 1-0 win over Yorkton United on a goal from Lauryn Hayes and a shutout from Jaden McKenzie.
They added a 2-1 comeback win over Saskatoon Hollandia to clinch a spot in the gold medal match. Hayes tied the game from the penalty spot and then added the game winner from a bad angle on a solo rush.
Swift Current rematched with Yorkton in Sunday's championship match and Kirah Brown scored twice to lead them to a 2-1 victory.
The U17 United Girls played at Provincials with only 10 players and still managed to win silver.
The U17 Girls tied Saskatoon's Aurora Force 0-0 on Friday to open the tournament.
Saturday, they moved into the win column with a 1-0 win over the Moose Jaw Storm. Calli Moreau-Simpson scored the only goal in the first half. They clinched top spot in the round robin with a 5-0 win over Kindersley Storm FC. Taylor Kohls, Kaitlyn Berggren, Allison Wall, McKenna Richelhoff, and Aspen Thomson all scored, while Juliana Whalen picked up her third straight shutout.
Swift Current dropped the gold medal match 1-0 to Aurora on Sunday. Whalen was named the tournament's Most Valuable Player.
The U15 United Girls finished with one win, one loss, and one draw to narrowly miss the playoffs.
The U15 Girls opened the tournament with a 1-0 win over the Weyburn Junior Red Devils on Friday.
Saturday, they tied Saskatoon Hollandia 0-0 and then lost 5-0 to Prince Albert Celtic to conclude their season.
Two boys teams were in North Battleford for Provincials.
A shorthanded U15 United Boys team lost all three games at Provincials. They dropped their opener 3-0 to Saskatoon's SUSC Reds on Friday evening. Saturday, they suffered 5-0 losses to the FCR Royals and Melfort International.
The U17 United Boys lost three close games at Provincials. They lost their opener 2-1 to the Kindersley Storm on Friday evening. Saturday, the U17 United Boys fell 4-3 to Battleford United FC and 2-0 to FCR.
The U17 and U15 teams were both the recipients of the Fair Play Award for their efforts at Provincials.