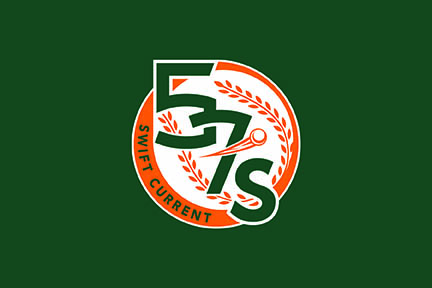 The Swift Current 57's four-game winning streak was halted on Tuesday when they allowed eight consecutive runs in an 8-6 loss to the host Yorkton Cardinals.
The 57's held an early 4-0 lead, allowed eight consecutive runs, and then fell short in a late comeback attempt.
One night after the 57's defeated the host Cardinals 12-1, four batters were hit by pitches on each team. The 57's were held to seven hits, but combined with nine walks they scored six runs after leaving 13 runners on base.
The 57's opened the scoring in the second inning when Dauson Tate singled home Jered Binsfield from second.
The 57's loaded the bases in the third inning and Tate was hit by a pitch to bring home Bo McClintock for a second run. Jerad Dokey followed with a walk to plate Ben Komonosky. Will Baker walked next to score Ethan Hunter to finish off a three-run inning for a 4-0 lead.
The Cardinals loaded the bases in the bottom of the inning and scored when Jayse Wilson was hit by a pitch. Griffey Halle also singled home a pair of runners to make it 4-3 after four innings.
The Cardinals took the lead with two runs in the fifth inning, including a home run from Dillon Champagne. Yorkton added another run in the seventh inning to make it 6-4 and then sealed things with a two-run eighth inning as well.
The 57's attempted another late comeback in the ninth inning when Dokey singled home Binsfield and Hunter scored on an ensuing error but they were unable to get any closer than two runs.
Newcomer Jack Ferguson allowed one hit, three walks and three runs while striking out three over 3.2 innings in the start for the 57's.
The 57's were unable to reach the .500 mark in the Western Major Baseball League as they dropped to 7-9, while Yorkton improved to 4-10.
The 57's will host the Edmonton Prospects on Wednesday in a rematch of the 2017 WMBL championship series.