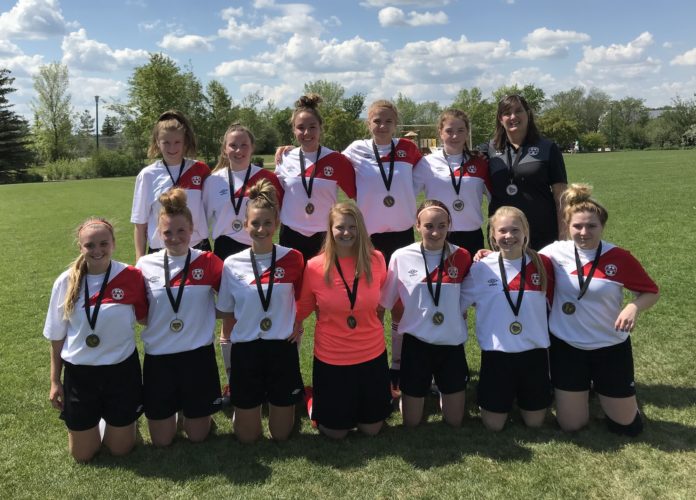 The Swift Current U17 United Girls rebounded from a tournament opening loss to win gold at the Eastside Bridge City Summer Classic in Saskatoon over the weekend.
They dropped their opener 2-1 to Flin Flon's Phantom Lake Soccer Club on Friday evening. McKenna Richelhoff scored the only goal in the loss.
The United girls rebounded on Saturday morning with a 6-0 win over Battlefords United FC. Kaylea Resch, Allison Wall, Alissa Gagnon, Reegin Powell, Ilyssa Dyck, and Richelhoff scored, while Juliana Whalen picked up the shutout.
They followed up on Saturday afternoon with a 6-0 win over Saskatoon's Eastside Valencia. Powell led the way with a hat trick, while Richelhoff, Gagnon, and Wall also scored.
The U17 United Girls got a rematch with Phantom Lake in the gold medal match on Sunday. Resch and Gillian Studer scored in a 2-0 victory to secure gold as Whalen earned her third straight shutout.
Swift Current United Soccer Club teams will be back in action on June 29 – July 1 at Provincials in Saskatoon and North Battleford.