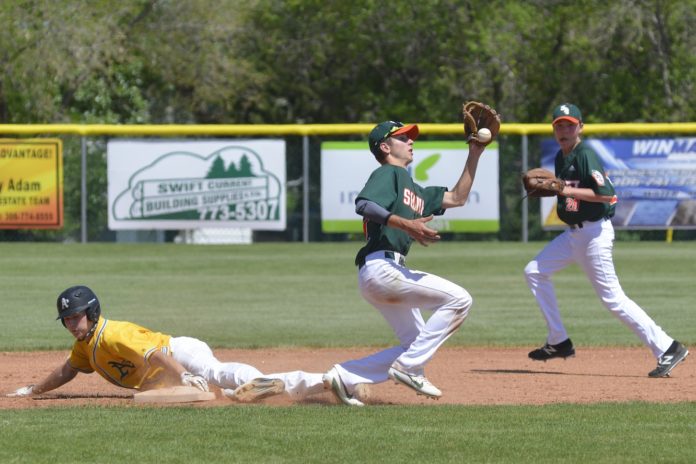 The Swift Current 57's split a double header with the visiting Regina Athletics in the Saskatchewan Premier Midget AAA Baseball League on Sunday.
The twin bill was set to be played in Regina before heavy rainfall closed their fields and the games were moved to Mitchell Field.
The 57's dropped the opener 16-9 in extra innings. The 57's trailed 3-1 heading into the final inning before scoring twice to force extras. Each team started with two runners on base in extra innings and both teams scored twice in the eighth before neither team was able to score in the ninth.
The Athletics exploded for 11 runs in the 10th inning, while the 57's replied with four runs.
Logan Fritzke made a solid start, allowing three hits, three walks, and three runs, while striking out 10 over six innings. He also finished with two hits, one walk and one run scored.
Third baseman Brody Alexandre got on base with a walk and a hit by pitch and scored twice. Catcher Brock Wall singled, scored, and knocked home a run. Bantam call up Ethan Murdoch singled twice while playing left field.
The 57's bounced back for a 7-4 win in the second game. Wall pitched all seven innings, scattering eight hits, two walks, and four runs, only three that were earned, while striking out six in the win.
Alexandre led the 57's with two hits, two runs scored, and two runs batted in. Right fielder Quinn Patenaude also had two hits and one RBI. Leadoff man Nolan Klein walked twice and scored three runs to go along with a stolen base. Fritzke, Mac Gross, and Nic Bachiu all finished with a hit and an RBI. Bantam call up Kelsey Rokochy doubled and scored.
The 57's improved to 2-6 and sit eighth in the 10-team league. They will be in Saskatoon on Friday to visit the Saskatoon Giants. They will also play a road double header against the Northwest Pirates on Saturday.