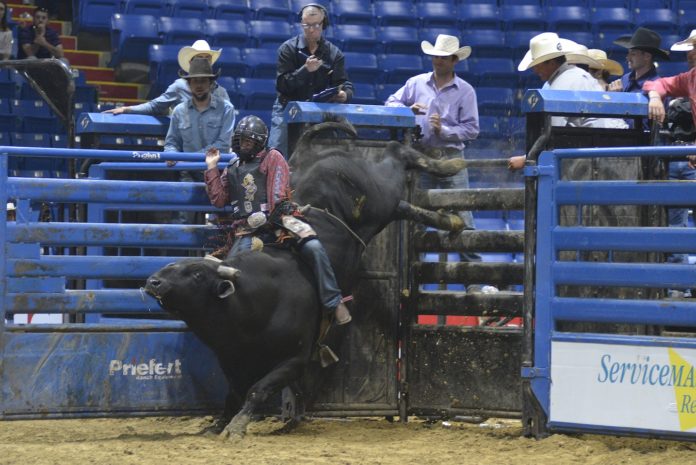 Expect to see Cody Coverchuk back in Swift Current next season. The Meadow Lake native won for a second time at the 8th annual Cody Snyder Invitational PBR on Saturday.
"It feels good," said Coverchuk. "Recently it hasn't been going that great, so to come into a big PBR like this and get the win feels good for sure."
Coverchuk rode Ray's Last Jump for 85.5 points in the Long Go to get the win.
"It's a bull that I never ever did see before. His name is Ray's Last Jump from the Girletz Rodeo. He was really good, an awesome bull that I think all the guys would like to get on for sure."
Coverchuk had two rides in the Short-Go but was unable to cover the eight seconds as all 10 cowboys were bucked off in the final round.
"For myself, personally, I am pretty competitive, so it does matter to me. But at the end of the day a win is a win. But it is always better when you take all the money in the short round too," said Coverchuk.
Coverchuk also won in Swift Current in 2014 with 87.5 points on Pop Evil.
"Actually this was my first PBR that I ever won when I was 18, so it's been a few years."
Coverchuk is now off to a couple Canadian Professional Rodeo Association rodeos. His next PBR event is in Moncton on June 2.
"It went great," added organizer Cody Snyder. "We had a really good crowd. I think market in this mark, with the run the Broncos had, there was a lot of money that was taken out of the market, so we had a heck of crowd. The bull riders rode really good. The bulls were exquisite. It was an outstanding pen of bulls."
The bulls bucked off all 10 cowboys in the Short-Go.
"Yeah the bulls definitely won," said Snyder. "It just shows the caliber of bulls that we've got in Canada. That was a great pen of bulls."
Coverchuk is only the fifth man to ever win the Cody Snyder Invitational in Swift Current, joining Scott Schiffner and Zane Lambert as a repeat champion.
"Cody has won a lot of money around me," said Snyder of Coverchuk. "This is the second time he's won this event. I think he has probably won four or five of my events. He rides really well around me. He's had a lot of success, that kid can really ride."