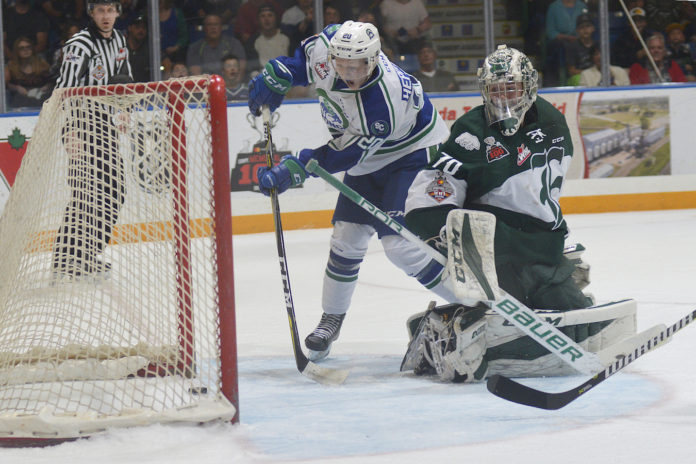 29 years to the day after the Swift Current Broncos won their only Memorial Cup, they shutout the visiting Everett Silvertips 3-0 to win their first Western Hockey League title in 25 years.
"It's unbelievable," said captain Glenn Gawdin. "Just being able to win with such a good group of guys makes it even more sweeter."
The Broncos became the first Saskatchewan team to win the Ed Chynoweth Cup since they won it back in 1993.
"It's unbelievable right now," added Kaden Elder. "We worked hard all year. We worked hard in the playoffs and we paid attention to details and that's what got us this. We earned this. We battled hard the whole time. It's a surreal feeling right now. It's awesome."
"Hard to say, it's an unbelievable feeling," said Heponiemi. "It's great to win something with this group of guys. It's just amazing."
Stuart Skinner concluded a record breaking post-season with 31 saves for his sixth shutout of the playoff to clinch a 4-2 win in the 2018 Rogers Western Hockey League Championship Final best-of-seven series.
"Not a lot of words are really going through my head," admitted Skinner. "I can't believe it. It's the best moment of my entire life being able to lift that over my head and being able to celebrate this with a group of guys that we have. There's no words to describe the feeling that I have right now. I am so excited and I'm so blessed to be able to have a family like this behind me and play in front of me. My family here, the Broncos, we deserved it. We worked so hard for this. No words can describe it."
The Broncos scored only 6:41 into the first period when Aleksi Heponiemi passed up a point blank shot to set up Giorgio Estephan for an open net power play goal. The Broncos made it 2-0 when Heponiemi shoveled home puck that had trickled through Carter Hart with only 0.6 seconds left on the clock in the first period.
The Broncos spent much of the second period defending as they were outshot 14-8 during a scoreless frame.
Beck Malenstyn added an empty net goal to seal the win in the final minute.
Skinner outdueled Carter Hart, the three-time WHL Goaltender of the Year. Skinner finished the series with a 0.947 save percentage and a 1.79 goals against average compared to Hart's 2.29 GAA and .919 save percentage.
"He's unbelievable," said Skinner of Hart. "I give him so much respect. You've got to give him a lot of respect for what he's accomplished, especially this year. Being able to play against him and having that compete against him, I mean it was a lot of fun. I just enjoyed every moment. He came up with big saves. I came up with big saves. I'm just so happy that I was able to lift the cup over my head."
Gawdin was named the WHL Playoff Most Valuable Player with 14 goals, 18 assists, and a plus-10 rating in 24 post-season games. He led all players with five goals and seven points in the championship series.
The Broncos will open the 2018 Mastercard Memorial Cup on Saturday afternoon against the QMJHL champion Acadie-Bathhurst Titans. They will battle the OHL champion Hamilton Bulldogs on Monday and then face the host Regina Pats on Wednesday.