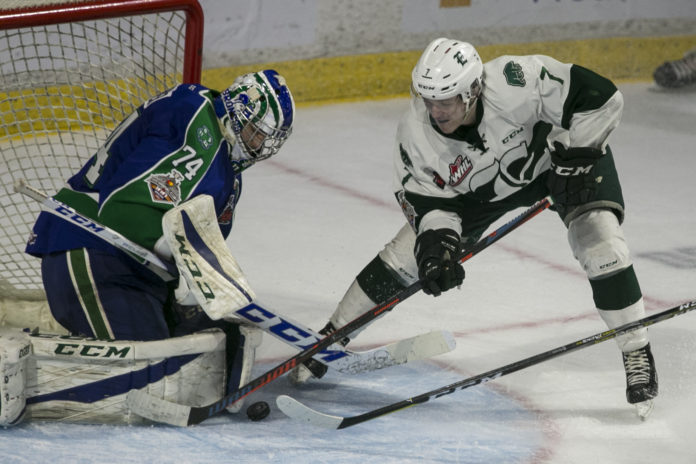 The Swift Current Broncos will have the opportunity to clinch a Western Hockey League championship on home ice after they lost 6-3 to the host Everett Silvertips on Friday.
The Broncos made two comeback attempts but fell short as their three game winning streak came to an end. The Broncos still lead the 2018 Rogers Western Hockey League Championship Final best-of-seven series three games to two with the series shifting back to Swift Current for the final two games.
The Broncos trailed most of the way, but erased a two-goal deficit and almost nullified another in the third period before Connor Dewar scored twice into an empty net.
The Silvertips led 2-1 after one period as both teams were afforded two power play opportunities. The home team opened the goal with a power play goal from Wyatt Wylie 6:19 into regulation. Matt Fonteyne took advantage of a Broncos turnover to score his ninth of the season with 3:53 left in the period for a 2-0 Everett lead. The Broncos replied with a power play goal of their own 1:43 later when Glenn Gawdin tipped a Giorgio Estephan pass into an empty net.
Gawdin found himself all alone for the only goal of the second period. The Broncos captain deked out Carter Hart for his 13th goal of the playoffs.
The Silvertips regained control of the game with goals 1:21 apart from Sean Richards and Riley Sutter for a 4-2 lead early in the third period. It was a cruel twist of fate as Estephan wired a shot off the bar only moments before Richards scored on the other end.
Defenseman Noah King knocked home his first playoff goal for the Broncos before Dewar sealed the game in the final minutes.
Stuart Skinner took the loss with 34 saves, while Hart made 21 saves on 24 shots.
Game six will be Sunday back in Swift Current.