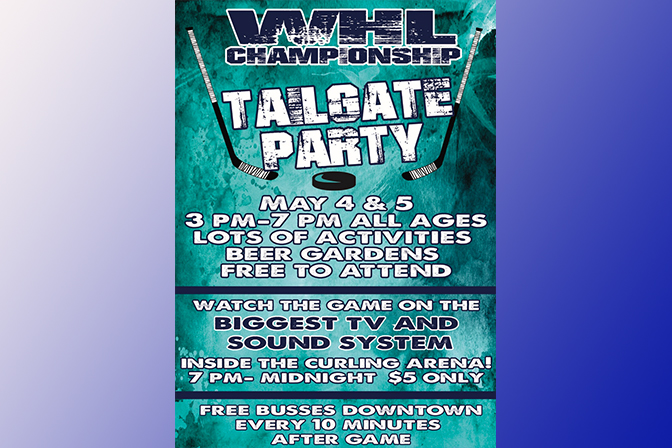 Fans clamouring for a way to watch their Swift Current Broncos in action during the Western Hockey League Championship Series can now join other fans at a Tailgate Viewing Party.
A pair of big screen televisions will be set up in the curling arena at the Innovation Credit Union iPlex where fans can gather to watch Games 1 and 2 of the Broncos series against the Everett Silvertips. Game one is set for 7 p.m. tonight, with Game two following on Saturday, May 5 also at 7 p.m.
"With the Broncos' historic playoff run making tickets for home games difficult to come by, we came up with an option for fans to view the games on giant screens from right inside our home venue," Swift Current Mayor Denis Perrault said of the city initiative. "It'll be a great opportunity for our fans to come out and create a sea of blue and green while we cheer our boys on to the WHL Championship."
These tailgate events are open to the public, and attendees are not required to have a ticket to the game to enter. However, ticketholders are welcome and encouraged to join in the festivities prior to and following the games.
The festivities get underway at 3 p.m. both days, and continue through to midnight or one hour after the conclusion of the games.
Along with the viewing options on two giant 15' by 24' screens, there will be food vendors, activities for kids and much more. All attendees are encouraged to wear blue and green in celebration of Broncos Day on Friday.
"We'd also like to say a very heartfelt thank you to our Redneck Betties Roller Derby team, who made an eleventh hour change to their schedule to accommodate the Saturday event," stated Perrault. "We are incredibly fortunate to have such a gracious community partner in the Betties, and our hats are off to them for their help."
Members of the public who would like more information on the Tailgate Viewing Parties can contact Community Services at 306-778-2787.
For individuals or groups interested in volunteering to help with these events, please contact Swift Current Curling Club President Ron Eichel at 306-750-7335 or ron.eichel@live.ca.
Proceeds from the Tailgate Parties will support the Swift Current Broncos, the Swift Current Curling Club and the Hockey for Humboldt 4 on 4 Hockey Tournament.