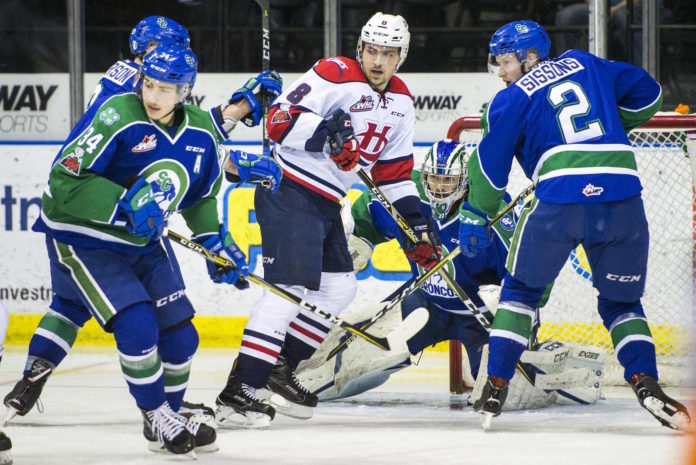 The Lethbridge Hurricanes remain unbeaten at home in the post-season after handing the Swift Current Broncos a 5-1 loss on Tuesday.
Brad Morrison netted a hat trick and Dylan Cozens scored twice to lead the Hurricanes to their first win of the series to cut the Broncos lead to 2-1 in the best of seven Eastern Conference final. The Hurricanes are now 7-0  at the Enmax Centre in the post-season.
After a scoreless opening period, the Hurricanes opened the scoring on the power play when a Cozens shot from the slot beat the glove of Stuart Skinner and trickled over the goal line 2:11 into the middle stanza.
The Broncos tied the game with 3:07 left in the period when Andrew Fyten shoveled home a rebound during a hard-working shift for his line.
Brad Morrison restored the Hurricanes lead 1:06 later with a power play goal on a screened shot from the top of the face-off circle.
Cozens added his second goal only 1:14 into the third period when he worked his way open in the slot and tucked a puck low to the glove side of Skinner. Morrison tipped home his second of the night with 8:25 remaining to make it 4-1. He scored into an empty net with 3:48 left to complete the hat trick.
Skinner took the loss with 29 saves, while Logan Flodell made 23 saves in his ninth win of the playoffs.
The Hurricanes scored twice on four man-advantages, which allowed them to pull away in the second period.
"I thought in the second period we took a couple very undisciplined penalties that put us in a little bit of trouble and they capitalized on it," said head coach Manny Viveiros. "At this time of year you can't take any retaliatory penalties at all, whether something was done before or not. It is usually the second infraction that is going to be called every time. We weren't very smart in those areas. They had an opportunity and they capitalized on it too."
The Broncos were outscored 3-0 and outshot 15-6 during the third period. Viveiros was disappointed that his team didn't push back with the game on the line.
"I was. I thought we could have certainly pushed back, not from an energy point of view. The kids were still working. We didn't play any structure. We just started running all over the place and that is something you can't do at this time of year. We have to make sure we play much better, sound in our own end. It got away from us real quick."
Game four will be Wednesday in Lethbridge.
Bronco Bits: the Broncos were without injured captain Glenn Gawdin and defenseman Artyom Minulin.