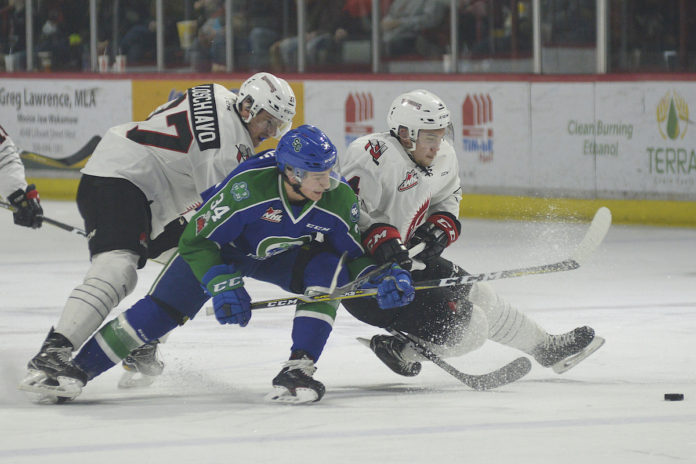 The Swift Current Broncos had a dominant outing to even the best-of-seven Eastern Conference semi-final at one game apiece with a 4-0 win over the host Moose Jaw Warriors Saturday.
The Broncos had lost game one 5-3 on Friday when they allowed the opening three goals before pushing back in the third period against the host Warriors.
"I think everyone just bought in," said Tyler Steenbergen. "We played a full 60 minutes. Yesterday we took a couple periods off and it showed. I thought we brought it in the third and we used that to come back today and it showed on the score board."
The Broncos weathered the early storm and were rewarded with a power play goal from Glenn Gawdin 13:08 into the first period when Aleksi Heponiemi undressed Brandon Schuldaus in the corner and fed Gawdin cross-ice for his sixth of the post-season.
Brett Howden had fired a shot off the cross bar only minutes earlier with the Warriors best chance of the period.
The Broncos authored one of the best periods of their season in the middle stanza as they scored twice to take control of the contest. Giorgio Estephan scored only 2:57 into the period and then Tyler Steenbergen added his eighth goal of the playoffs 4:30 later. Defenseman Colby Sissons picked up assists on each of the first three goals.
Kaden Elder added an empty net goal with 2:08 left on the clock.
Stuart Skinner made 20 saves for his second shutout of the post-season. Brody Willms took the loss with 26 saves.
The game was played with heavy hearts by both teams one day after the horrific bus crash involving the Humboldt Broncos. Both teams joined together at centre ice for a moment of silence before the game. The accident, which has now claimed 15 lives, touches close to home for the Swift Current Broncos, who had their own fatal bus crash in 1986, which took the lives Trent Kresse, Scott Kruger, Chris Mantyka, and Brent Ruff.
"It was definitely something nobody has ever went through before," said Sissons. There was three guys on our team who lost best friends yesterday. I mean for them to be out here playing with us today and us to, all we want to do is support them. They came out and they had games of their lives. Obviously with everything going on in Humboldt, I knew a few guys on the team. With us, with the name and the kind of connection with our history and I guess their sad history now, I mean we are playing for them."
"Obviously there was a lot of stuff going on with some guys on our team and they battled right through it. It was unbelievable to see. We came in as a group today and talked about it and it was a pretty special feeling to win this one for them," added Steenbergen.
The Broncos put together one of their best efforts of the season under adverse conditions on Saturday.
"I guess you could say that's one of the best 60 minutes we've ever played as a group. We shut them down. I guess it was a tough one. But we all stuck together as a group and I guess we came out with the win today," said Sissons.
"A lot of guys definitely knew guys, but guys had very close friends," explained Steenbergen. "It was a different day preparing for a game. It was pretty quiet all day. Last night was obviously just a hockey game and that was definitely bigger than everything else that had gone on. Today we just wanted to do it just for them."
The series will resume with games three and four on Tuesday and Wednesday in Swift Current.
"It is going to be really loud," said Steenbergen. "The fans have been awesome so far in the playoffs. We are going to use that to our advantage and hopefully get two wins at home."
"Yeah it is definitely awesome, we use it to our advantage like we have all year long. They've been awesome supporting us here, but going back home it's going to be awesome," added Sissons.