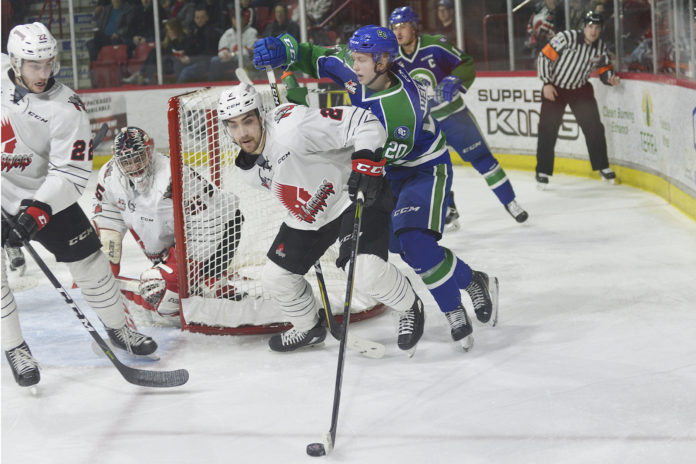 The Swift Current Broncos find themselves trailing for the first time in the post-season after a 5-3 loss to the host Moose Jaw Warriors Friday.
An opportunistic Warriors team scored the first three goals to take a 1-0 lead in the best-of-seven East Division final. The Broncos made a spirited comeback attempt in the third period, but it was too little too late to overcome the slow start.
The Broncos had a solid first period with a 10-5 advantage on the shot clock. Moose Jaw opened the scoring 15:34 into the frame when Jayden Halbgewachs tipped home his third goal of the post-season.
Justin Almeida continued to produce in the post-season with a power play goal early in the second period to double the Warriors' lead. Tanner Jeannot tipped home a point shot 2:35 later to make it 3-0. The Broncos finally got on the board with 41 seconds left in the middle frame when an innocent looking shot from Sahvan Khaira found the back of the net.
Andrew Fyten made things interesting with a shorthanded goal 5:44 into the third period when he found the top corner with a two-on-one wrist shot.
The Broncos got their first power play moments later but failed to capitalize and Brayden Burke quickly knocked home a rebound to restore the Warriors' two goal lead.
Tyler Steenbergen answered again for the Broncos with a perfect top corner shot from the slot after Aleksi Heponiemi stole a puck in the corner. The Broncos pulled their goalie with 1:15 left, but Jeannot scored into the open net with nine seconds left to close the scoring.
Stuart Skinner fell to 4-4 in the playoffs with 20 saves for the Broncos. Brody Willms earned the win with 24 saves for the Warriors.
The Warriors finished one-for-three on the power play, while the Broncos were held without a goal on two man-advantages.
The series will resume in Moose Jaw on Saturday.