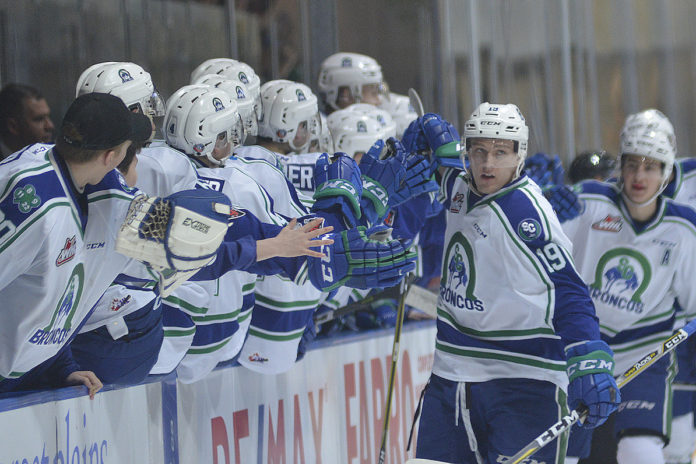 The Swift Current Broncos used a three-goal first period to cruise to a 3-0 win over the Regina Pats to open the best-of-five East Division semi-final.
Stuart Skinner made 34 saves for his first post-season shutout in his 25th career playoff game.
The Pats were determined to set a physical tone and they paid for it in the first period as the Broncos scored three goals, the second two on the power play. Beck Malenstyn scored opener only 3:43 into the series on a rebound. Tyler Steenbergen snapped home a power play and Matteo Gennaro added a power play goal with 1:12 left in the period.
"Obviously there was a lot of energy here," said Malenstyn. "These fans were unbelievable. I think right off the bat we saw the support we were going to have coming out in that first period with a lot of energy. We got in behind them, got some pucks to the net, and they were able to go in for us. I think we were really happy with that start."
The game settled down in the second period as the Broncos did some good work on the penalty kill during a scoreless frame.
Ryan Kubic took the loss with 23 saves on 26 shots. Skinner was a steady presence on the other end for the Broncos.
"He has been in this league since he was 16 and has a lot of playoff experience and it showed tonight," said Malenstyn. "He was solid for us, bailed us out on a few occasions and it is nice to have him back there."
The Broncos finished two-for-seven on the power play in front of a sellout crowd of 2,890. Regina failed to score on two man-advantages as the Broncos were clearly the more disciplined team after a contentious two head-to-head games to conclude the regular season.
"We could see in the two games leading in the playoffs that it was going to be a tough series," said Malenstyn. "It was huge for us to keep level-headed going into those battles, not throwing that second punch. I thought we were able to do that today and saw a few power plays because of it."
Game two will be Saturday at 7 p.m. in Swift Current.
"Every day is a new day," cautioned Malenstyn, who was playing in his 21st playoff contest. "They are going to come out hard for sure. It is the playoffs and they are going to have a good push back. For us it is look at what we did today, try and match that tomorrow. We need to come out and match their push off the start and see if we can't weather the storm again."
Bronco Bits: the only negative news came early when import defenseman Artyom Minulin left the game and did not return after being ridden heavily into the boards. After leading the league with 90 assists in the regular season, Aleksi Heponiemi assisted on both power play goals.