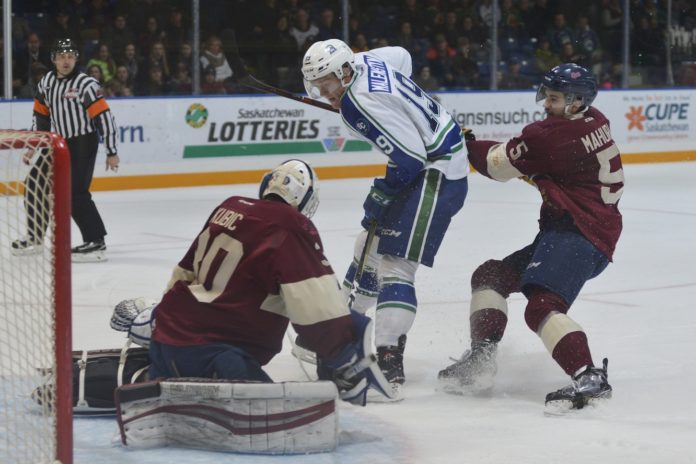 The Swift Current Broncos and Regina Pats will meet for the second straight season in the Western Hockey League playoffs. If their final two games of the regular season were any indication, hockey fans can expect a physical and evenly matched series between the Trans-Canada Highway rivals.
"It is going to be a good series," said Pats captain Sam Steel. "They are a really good team over there. We had a great series last year and I don't expect anything different. It is going to be a hard-fought series and hopefully we come out on top."
Plenty of animosity was evident when the two teams faced one another during the final two games of the regular season when each team won in overtime.
"You kind of got a little taste of what it's going to be like," said Bronco captain Glenn Gawdin. "I don't think both teams tried to give too much of their game plan away in those games and obviously tonight with resting guys was the same thing. It is definitely going to be a good playoff series."
"I think they are going to be physical. Obviously Swift Current and Regina is a big rivalry, so I think it is going to be a bit of a war," added Broncos newcomer Josh Anderson.
The 6'3'', 220-pound defenseman was acquired at the trade deadline with the playoffs in mind.
"I think I strive on these type of games. That's a big part of my game is being physical and being mean to the other teams and being here for my teammates, so I think that is going to be a big part of my game in the playoffs here."
The Pats had won seven straight games before Saturday's overtime loss as they have developed chemistry after adding pieces throughout the season to help them contend as Memorial Cup hosts.
"Yeah seems like things are coming together really nice over this last stretch heading into playoffs. We are just going to look to continue that and have some success here," said Steel.
Pats' coach John Paddock wasn't about to give away his team's strategy headed into the series.
"Play right, that's what we talk about all the time," he said when asked about the keys to the series.
"I think we just have to play our game and do a lot of the things that we have done over these last two games. Except just stay out of the box, I think that will be a big key for us. I think it is going to be a good series," said Steel.
Broncos head coach Manny Viveiros was a little more forthcoming when asked about the series.
"We have to play our game. We have to play the way we played and be effective that way. They have some real high-end players and we have to be able to shut those guys down. The Sam Steels, the [Matt] Bradleys, the [Josh] Mahuras, all those type of players, we have to make sure we are aware when they are on the ice and make sure we don't let them control the game, which they can," explained Viveiros. "Our high end guys have to be our best players. You never win without your best players not being your best players."
"I think probably playing with confidence is huge for us too," added Gawdin, who has lost to the Pats twice before in the playoffs during his five-year career. "Playing our game plan and not really getting sucked into theirs. It is definitely going to be a physical series and we maybe need to lead that. We have a lot of guys that can play heavy. I think it is just doing things that have won us games, playing heavy, sticking to our game plan, kind of all those more or less cliché things."
Both weekend games nearly got out of control as the teams appeared more focused on sending a message than getting a result on the scoreboard. Viveiros did not expect that undisciplined play to continue.
"I think as far as the heaviness and the physicality yeah. But not so much the chippyness that went on last night and tonight because the series is just too valuable. We can't afford to be in the penalty box on retaliatory stuff. That is where the playoffs are totally different. I doubt if there will be any type of fights going into the playoffs. It will be all about hockey. It is going to be hard, physical hockey, but we have to be very smart when we are playing."
The special teams battle will likely play a major role in the series as well. The Broncos led the WHL at 29.4 percent on the power play, while the Pats were seventh at 24.2 percent. The Broncos were fourth in the league with a 79.5 percent rate on the penalty kill, while the Pats were a distant 19th at 75.8 percent.
"I think both teams, these last two games, didn't show anybody anything. That is a going to be a big part of it. Five-on-five both teams match up pretty evenly. It is going to come down to the special teams too," said Viveiros.
The best-of-seven series opens Friday and Saturday in Swift Current. Games three and four will be Monday and Wednesday in Regina.