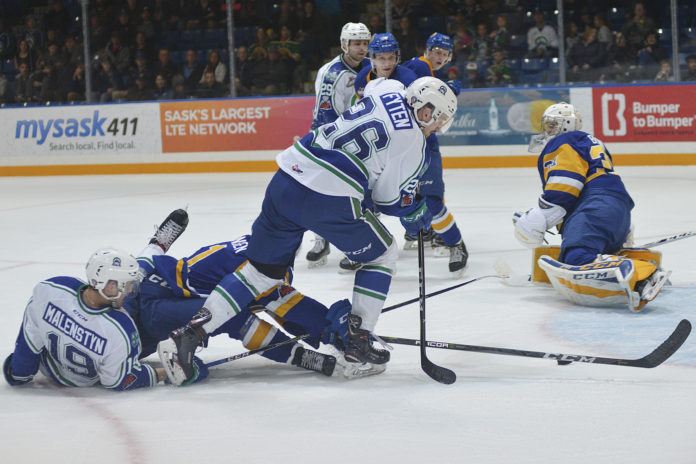 The Swift Current Broncos dropped their third straight game in a 5-2 loss to the visiting Saskatoon Blades Wednesday. The Broncos fired 44 shots on goal but could only beat Tyler Brown twice in the loss in front of a sold out crowd in a meaningless game in the Eastern Conference playoff picture.
The Broncos completely dominated the opening period but fell behind when Kirby Dach scored a breakaway goal with only 15 seconds left on the clock despite a 12-4 Broncos advantage on the shot clock.
The Blades added to their lead with a Braylon Shmyr goal early in the second period. The Broncos quickly responded with a Kaden Elder goal and then Matteo Gennaro deposited his 41st of the season on the power play. Michael Farren scored on the power play with nine seconds left in the period for a 3-2 Saskatoon lead after two periods.
Max Gerlach doubled the lead with a third-period power play goal on a beautiful set-up from Dach. Gerlach added a second power play goal minutes later, his 31st goal of the season, to close the scoring.
Stuart Skinner made 22 saves to fall to 29-21-3-1. Brown stopped 42 of 44 shots to improve to 17-17-3-0.
Swift Current fell to 47-17-4-2 with their third straight loss, locked into second in the Western Hockey League regular season standings behind Moose Jaw. Saskatoon improved to 33-33-3-1.
The Broncos will conclude the regular season with two games against the Regina Pats this weekend. They visit Regina on Friday and host the Pats on Saturday.
Bronco Bits: Captain Glenn Gawdin missed his third straight game due to illness. Tyler Steenbergen missed his first game after leaving Saturday's game due to injury. Tanner Nagel missed his first of three games due to suspension.