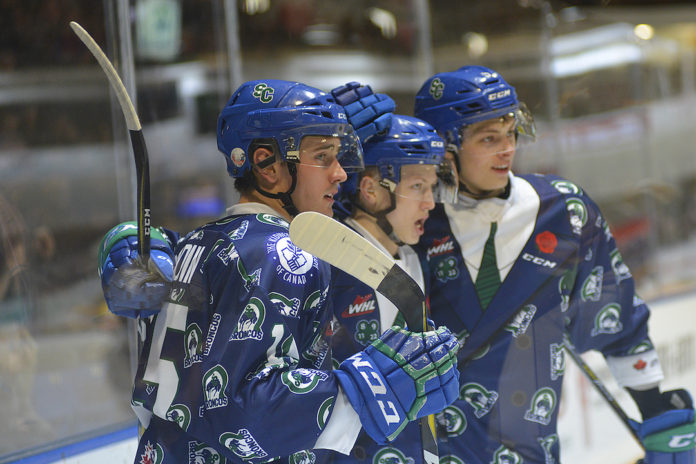 One night after letting a 4-1 lead disappear in a shootout loss, the Swift Current Broncos had a full 60-minute effort in a 3-1 win over the visiting Brandon Wheat Kings.
"It was definitely a bounce back from last night," said defenseman Sahvan Khaira. "I think the mindset today was complete different. We came more serious, more prepared and had a complete team effort."
The Broncos came out flying in the first period but the Wheat Kings took advantage of a turnover and Linden McCorrister one-timed home a centering feed on a two-on-one rush top open the scoring. Matteo Gennaro replied for the Broncos with his 40th goal of the season for a 1-1 tie after one period.
The Broncos were buzzing again in the second period and were rewarded when Aleksi Heponiemi tapped home his 27th goal midway through the period, which would stand up as the game winner. Beck Malenstyn added an empty net goal with 12 seconds left on the clock to seal the win.
Stuart Skinner had a quiet night in goal with 18 saves on 19 shots to improve to 28-18-3-1. Logan Thompson was outstanding for the Wheat Kings with 33 saves in a losing cause to fall to 28-22-1-2.
The Broncos limited the Wheat Kings to a minimal amount of scoring chances.
"I think our team, how strong we are when we play as a five-man unit every time we are on the ice, we are going to do that to teams no matter how strong they are. We have a really strong team, Stuart is a really good goalie, and we have a good D core. When we play together as a team we are going to limit those scoring chances," said Khaira.
The game did not feature a single power play for either team, a stark contrast to Friday's penalty-filled affair.
"Five-on-five definitely has more flow to the game, it feels faster. Special teams takes that out of the game and kind of draws the game out longer than it should be. When it's five-on-five everybody is going and everybody has energy. It's better that way I think," said Khaira.
It was a special weekend for the Broncos as they recognized their billets and parents with many of the parents and siblings of the players in attendance for the two home games.
"There was a lot of excitement, a lot of emotions. A lot of guys parents are out of town and they don't get to see them very often, so there was just a lot of excitement. Personally, my parents never get to watch me play so it was really exciting to have them out here.
The Broncos improved to 46-14-4-2, while Brandon fell to 34-25-3-2. The Broncos finished the weekend one point behind Moose Jaw for top spot in the Western Hockey League, but the Warriors did hold one game in hand.
"That's our short term goal right now is to get first place in the division and the league. It's really important to us, so we have to play solid like we did tonight for the rest of the season," said Khaira.
The Broncos will conclude the three-game home stand on Wednesday when they host the Calgary Hitmen.
Bronco Bits: Glenn Gawdin assisted on the final two goals to extend his point streak to 49 points over 25 games, the longest streak in the WHL this season behind Heponiemi. Gawdin leads the WHL with 122 points and a plus-61 rating.