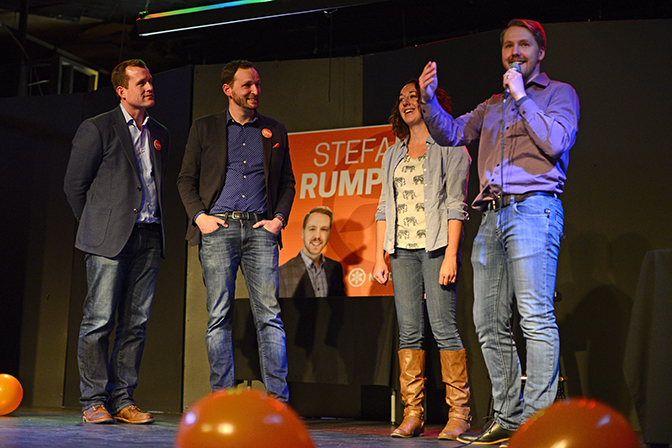 There was an enthusiastic atmosphere in the Lyric Theatre on February 22 when the New Democratic Party hosted a Stefan for Swift Rally in support of NDP by-election candidate Stefan Rumpel.
The evening event featured speeches along with entertainment to mark the final week countdown towards the March 1 by-election in the Swift Current Constituency.
Rumple, who has appeared regularly on the Lyric Theatre stage as a member of Swift Current Improvisational Theatre or during multiple community theatre projects, was right at home in the theatre's spotlights. He was joined last Thursday by Saskatchewan NDP Interim Leader Nicole Sarauer, plus NDP leadership candidates Ryan Meili and Trent Wotherspoon.
"Obviously the Lyric is such an important space to me. I've performed here so many times that it was great to have it as an opportunity. And then to be able to have the leadership candidates and the interim leader, and then also all these supporters to come out, it really speaks to the energy and the momentum that our campaign is building. That's really amazing to see."
Rumple has been supported by the trio during door knocking visits in the community, plus he also coaxed them to join him for a brief improv game as part of the evening.
Rumple said their presence, plus campaign help from other NDP MLAs, was an informative opportunity.
"The biggest thing that I'm learning is what opportunities I would have within the Legislature to really bring Swift Current's voice to the table," he said.
The opposition NDP receives a lot of opportunity during Question Period to bring issues out in the open on the floor of the Legislature, plus they work on committees in helping direct policy decisions.
"I'm going to have many opportunities to be there, to be a part of it, if I'm MLA. So Swift Current will have a great opportunity to continue to be heard."
He noted that during door knocking he is continuing to hear concerns over staffing levels at senior care facilities. This past week the province released the Long-Term Care Resident and Family Experience Survey, with care provision being one of the areas of concern. In the former Cypress Health Region, the survey question "Care team members are available when I need them (e.g. continuing care aides, nurses, doctors, therapists), 77 per cent of residents agreed with this statement (just short of the provincial average of 78 per cent), while family members agreed with this statement in 74 per cent of the surveys (ahead of the provincial average of 66 per cent). The general satisfaction rating to the question "Overall this is a good place to live" was agreed to by 90 per cent of residents and 85 per cent of family respondents.
The NDP point to this concern arriving after healthcare cuts have resulted in lower staff numbers in facilities, and workers who are being asked to do too much.
"I heard about it after I'd already been talking since the start of the campaign with people who are concerned that the workload and the overtime is causing staffing issues, with the hiring freeze that's in place, and then the care quality is going down," Rumpel said.
"If we're not taking care of the people who built this province, that doesn't sit well with me. We need to make sure that we're doing our best to have highly trained, well paid, proficient staff in these areas, and then doing our best to recruit them to make our communities a place that these young professionals want to build their lives."
NDP leadership hopefuls make final pitch in Swift Current
With the Saskatchewan NDP poised to selected a new leader during their leadership convention in Regina on Saturday, the two leadership hopefuls had a final chance to address supporters in Swift Current.
Both Trent Wotherspoon and Ryan Meili were on stage at the Stefan for Swift Rally on February 22, where the duo threw their support behind Stefan Rumpel's by-election bid, but also shared a brief reminder of their own political aspirations.
Trent Wotherspoon, who currently sits as MLA for Regina Rosemont, was excited by the enthusiasm for the NDP building during the by-election campaign. He noted this is the starting point for building to win the 2020 general election.
"People are open to voting for us as New Democrats," he said while addressing the audience at the February 22 event.
"This is a time for us to lay forward a vision of a province that works for everyone. One that's filled with hope, opportunity, and reconciliation. That's the Saskatchewan that I want to build."
Wotherspoon noted his vision for the province includes ideas such as universal mental health and addictions services, as far too many people are suffering in silence. He argued there are too many people doing without these services when they need them.
"We need to extend services within that window of opportunity. We need to fix our broken mental health and addiction services."
His vision for province also includes universal $15 a day childcare, building the most enriched and engaging classrooms possible, protecting Crown Corporations and then strengthening and expanding them to meet the needs of today and future generations.
Ryan Meili, who was selected as MLA for Saskatoon Meewasin in a by-election on March 2 of last year, was excited to be out campaigning with Rumpel. He was excited to hear on the door step people are talking about a political change, similar to the feedback which is resonating around the province.
"They said, well that they usually vote SaskParty, they're really frustrated, they're really disappointed with what they've seen, and that they're starting to look at us."
Meili said it is an exciting time because Saskatchewan residents are ready for a change.
"I believe that New Democrats can be that change. That we can put forth the kind of vision that will attract you. But to be the change that people choose, we really do need to step up our game."
"It's not enough for us to say what's wrong with the other guys. It's not enough for us to say what we're fighting against. We need to be able to articulate what we're fighting for."
Meili feels Saskatchewan is ready for a vision that excites and inspires people, not the current message of being told to expect less and that better isn't possible.
"We can do better. We can expand and improve medicare, including mental health care, including pharmacare, so that no one's making the decision to pay the rent or to pay for the medications they need to stay healthy."
He said the province should start to move towards a $15 minimum wage so individuals working full time minimum wage jobs will no longer have to live in poverty.
"We can be leaders in the transition to the 21st century energy, moving beyond, and addressing climate change," before being drowned out by applause.
"And we can move beyond nice words to real reconciliation, closing the gap in health, in justice, in education, in economic outcomes – making this a fairer, more equal province where everyone has the chance to thrive."
"The way that we win is by putting forth that bolder vision, by inspiring and exciting people to say 'yes, that's the change we're looking for'. And we're going to work to achieve it. Because it's going to take that kind of a vision, but it's also going to take a lot of hard work."