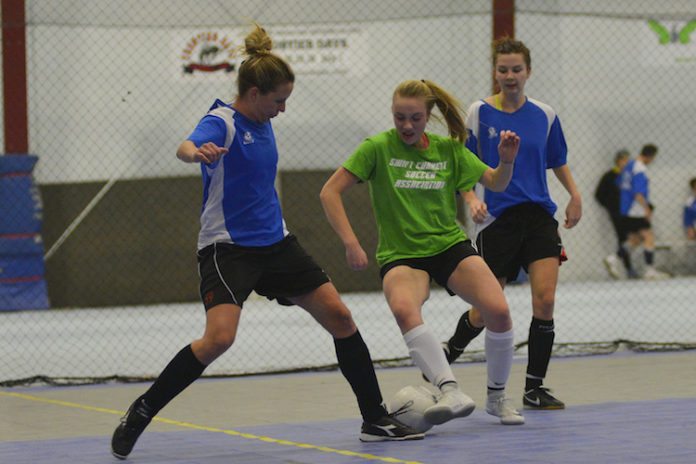 The Swift Current Adult Indoor Soccer League concluded another season with two high-scoring championship matches on Feb. 15.
The U19 United Girls topped the Women's League with an 8-5 win over Team Rage. Lauryn Hayes capped a dominating season with a five-goal outing, while MJ Anderson scored twice and Hayley Bitz added a single for the U19 Girls. Cassie Barber earned the win in goal.
Daryl Wiebe and Daunean Dash replied with two goals apiece for Team Rage, while Laura Blohm also found the back of the net.
Hayes won her third straight Golden Boot as the regular season scoring champion with 49 goals. Anderson finished second with 30 goals, followed by teammate Cassie Barber with 22 goals. Dash was fourth in league scoring with 20 goals. Olivia Koebel, from the U17 United team, and Kaitlin Thomson, from Team Rage, tied for fifth with 11 goals apiece.
On the men's side, Team 1 and Team 2 tied for top spot in the regular season with 21 points apiece.
Team 1 got goals from six different players to double up their opponent 6-3 in the final. Chris Stregger, Joel Rutten, Geoff Horn, Levon Findlay, Jaedyn Carefoot, and Tyler Moate all scored in the win. Lamuel Mushoriwa earned the win in goal. Felix Danquah scored a hat trick in a losing cause.
John Thomliston won the men's Golden Boot with 22 goals, followed by a Team 2 teammate Robin Ailsby with 16. Zac McCallum led Team 3 with 15 goals to place third in the scoring race, while Matthew Epp led Team 1 with 11 goals in fourth spot overall.