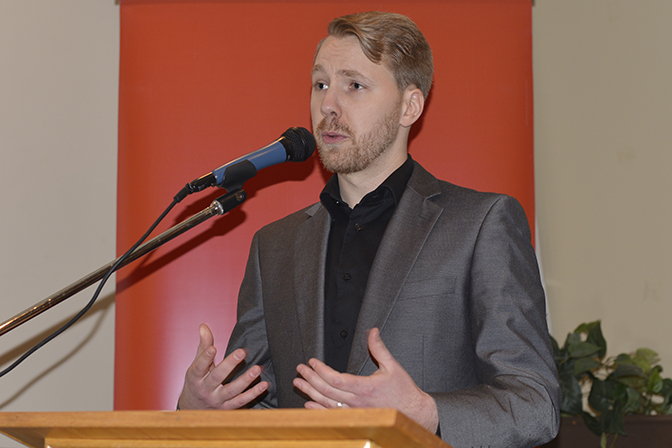 Stefan Rumpel won a contested nomination vote on January 28 and will represent the Saskatchewan New Democratic Party in the upcoming by-election in the Swift Current Constituency.
Rumpel, a teacher at the Swift Current Comprehensive High School, earned the nomination ahead of Shaun Hanna during a vote by 55 party members at Sunday's constituency association meeting. It was the first time in 20 years there has been a contested NDP nomination in Swift Current.
"Honoured. Humbled. Excited. Mixtures of multiple emotions. Really probably though, energized. Knowing that I get to be the candidate, that I get to be the person moving forward, I thrive when I know I have a goal in mind and I want to see it happen," Rumpel said in an interview shortly after earning the nomination.
Rumple commented that he is a relative political novice, having been an NDP member for just a year. However, after closely watching Saskatchewan's political scene, he feels he has some strengths he could bring as an MLA.
"I recently got involved. And the recent decision to move in was prompted by watching the news cycle become more and more negative," he noted.
"We need to be positive. We need to work for a Swift Current and a Saskatchewan that includes many voices, and is able to improve live for everybody."
"What prompted me to get in was obviously some of the shortsighted decisions that I disagree with regarding not protecting our most vulnerable – so our students, our patients. But the other piece is just to try to be positive, and try to be a voice that people look to and say 'he's saying that he wants "everybody" to have a better life. And what's wrong with that.'"
He also said that as a married 31-year-old with two boys under the age of four, he is impacted by most government decisions.
"For me that means I am directly connected to every decision that happens in this community," he said. "If something happens in education, that matters to me. If something happens in healthcare, that's going to effect what goes on if my children are sick or need help. If there are changes to budgets for municipalities, and we have to have an increase in our rates for power or an increase to our property taxes in those pieces, for my family the amount of money we have to thrive in this community is effected."
Rumpel said that highlighting priority areas of education and team building are two of his focus areas.
"I have a family and I have students that I care passionately about. And the decisions that are being made by our current government are going to have long reaching consequences. Some we're dealing with right now, and some, my boys and my students are going to have to deal with in the future," Rumpel said during his nomination speech.
"I'm tired of government's that don't plan beyond the next election cycle. We need to bring about governments that, instead of focussing on beating the other team, focus on the people they serve. Bringing that power back to the people."
"The NDP need to take the high ground. We need to build bridges between people. We need to show people that we can be a positive force for change. That we aren't looking to take from anyone, we're looking to build everyone up."
He said that placing a priority on working for the people is a focus that sometimes gets forgotten by politicians.
"I definitely wanted to get across obviously that we need to prioritize education, healthcare, supports for young families in our community. But not only that, we need to look at working together. We need people who are willing to collaborate and chose not necessarily what works in one place, but what works for us, and works for everyone.
"The idea of activating the passionate and brilliant people within our own community to come up with the plans for what are the things that are going to grow Swift Current. In my opinion, if you build at the base, if you build with those individuals who are lower socio economic, middle-class individuals, you make sure that they're supported and solid. They have money to put into the economy, which then boosts it for everyone. So taking care of the vulnerable, taking care of every member of a community, is what causes a community to thrive and grow."
Saskatchewan New Democratic Party Interim Leader Nicole Sarauer, who was a guest speaker at Sunday's event, was pleased with the enthusiasm during the afternoon contest.
"It was very exciting to see, both the fact that we had a contested nomination and a room full of energetic people that are excited about the by-election," Sarauer said.
She noted the NDP will be working quickly to get things in place for the pending by-election, after current Swift Current MLA Brad Wall announced his retirement from politics effective January 31.
"We'll be hitting the ground running starting tomorrow I'm sure, getting them ready for the by-election, because it can drop at any time," she said. "We do already have quite a substantive list of volunteers who are ready to hit the doorstep with our candidate, ready to speak to the people in the community and have those discussions and get ourselves some votes and make a statement here in Swift Current."
While the NDP will not be selecting a new leader until their Leadership Convention on March 3, they now know that Scott Moe is the new leader of the Saskatchewan Party and soon to be sworn in Premier.
"With Mr. Moe being elected, I of course wish him well, he's our next Premier. I hope that he's listened to some of the voices that we heard loud and clear during the leadership race. It's very similar to what we've been hearing on the doorstep – people who are frustrated with the tax hikes, frustrated with the cuts to education and healthcare in particular, and want to stand up for our crowns."
She noted that actions speak louder than words, and she is more interested to see what Moe does in the upcoming weeks and months.
"This is an individual who was at the decision making table during this last budget. He, along with the other candidates, voted for a budget which had very real, very devastating impacts on Saskatchewan families."
She noted the NDP were indifferent as to who was selected as SaskParty leader.
"All of them were at the decision making table during this last budget. All of them voted in favour of these cuts. All of them voted in favour of Bill 40 which sought to sell off our crowns. So none of them are really that different to us. And frankly the entire SaskParty, not just one particular individual, have been moving in the wrong direction for quite a while now."
Sarauer does admit that being successful in Swift Current, or other by-elections in Kindersley and Melfort would be a big boost for the NDP.
"It would be huge. Not only for the motivation that it brings. But also for frankly the body power we would have, the more people we have the easier and the more people we can reach out to. And that's number one for us in politics, we want to talk to as many people as possible, we want to listen to as many people as possible. So the more people we have at the table the easier that is."
"This will be a tough by-election. We're not beating around the bush about that. But you saw the calibre of both candidates that we had today. So we're very excited about this by-election and the other two other ones coming up," she said.