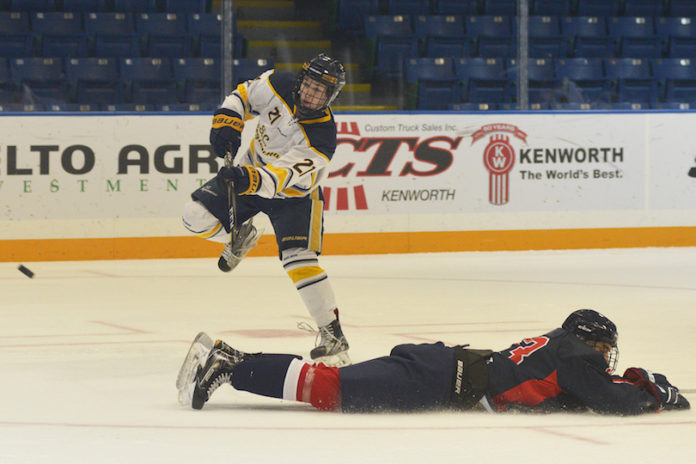 The Swift Current Home Hardware Legionnaires did exactly what they needed to during a two-game set against the visiting Tisdale Trojans over the weekend.
The Legionnaires trailed the Trojans by seven points for fourth spot in the Saskatchewan Midget AAA Hockey League and won a pair of close games to move within three points of home-ice advantage in the playoffs.
Saturday, the Legionnaires scored three unanswered goals in the third period to defeat the Trojans 4-2.
Mason Strutt scored twice, Hunter Lamb notched a goal and an assist, and Rin Benny and Jacob Piller each chipped in two assists.
Ty Muench also scored, while Lucas Ochitwa, Reed Jacobson, and Kersey Reich all added assists. Cody Levesque made 34 saves on 36 shots to earn the win.
Sunday, the Legionnaires scored the only two goals of the third period in their eighth consecutive win, a 2-1 triumph over the Trojans.
Owen Ozar tied the game 2:19 into the third period and Strutt netted the game winner with 6:32 remaining in regulation. Jaden Wake, Christian Riemer, Lamb, and Mac Gross all added assists. Levesque made 31 saves on 32 shots in the win.
The Legionnaires will put their winning streak on the line again on Wednesday when they visit the third-place Regina Pat Canadians.