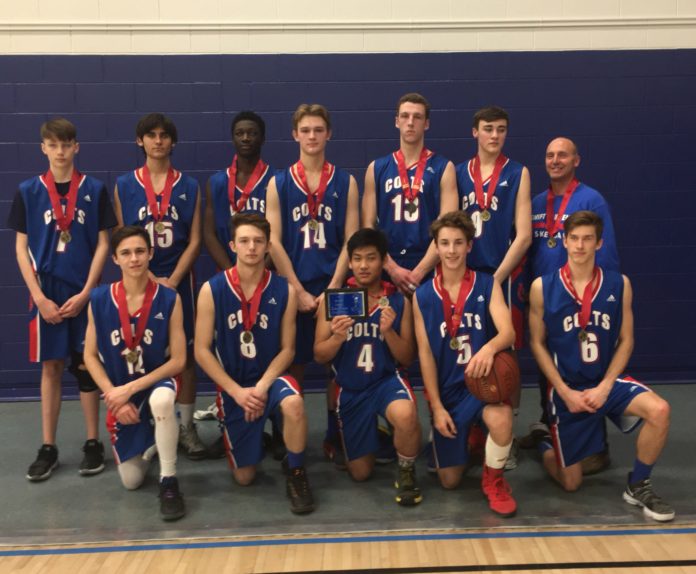 The Swift Current Comp. Senior Colts basketball team won their six-team home tournament with three wins over the weekend.
The Colts opened the tournament with a 76-65 win over the Shaunavon Shadows. Grade 12 forward Braedon Friesen led the Colts with 25 points, followed by Tanner Scott with 13 and Logan Fritzke with 12.
They followed up Saturday morning with a 79-72 win over Moose Jaw Vanier. Friesen paced the Colts with 30 points. Scott Joseph added 13 points, while Scott and Fritzke each chipped in 10 points.
The Colts trailed for most of their third game but scored 25 points in the final quarter to defeat the Moose Jaw AE Peacock Toilers 70-64 to clinch gold. Friesen led the Colts for a third straight outing with 24 points. Fritzke added 16 points and Scott had 14 points.
The Colts trailed by eight points after three quarters before holding the Toilers to 11 points in the final quarter.
"I just kept telling the guys that this is our hoop that we practice on all the time, so we will shoot better than we did in the first half and we will win it with defense," said head coach Scott Mayall. "They battled hard and didn't let them penetrate very much and they weren't making their three-point shots and that let us back in."
"Pretty excited," said Mayall of the weekend overall. "Pretty proud of the guys. Both Vanier and Peacock, last week we lost to Vanier and two weekends ago we lost to Peacock, so I guess that shows progress on our part that we beat two teams that we just lost too."
The Colts are off this week for final exams and then will head to Yorkton for a 12-team tournament.
"We've got some athletic kids and we are starting to gel as a basketball team, so I am excited for the rest of the year," said Mayall.