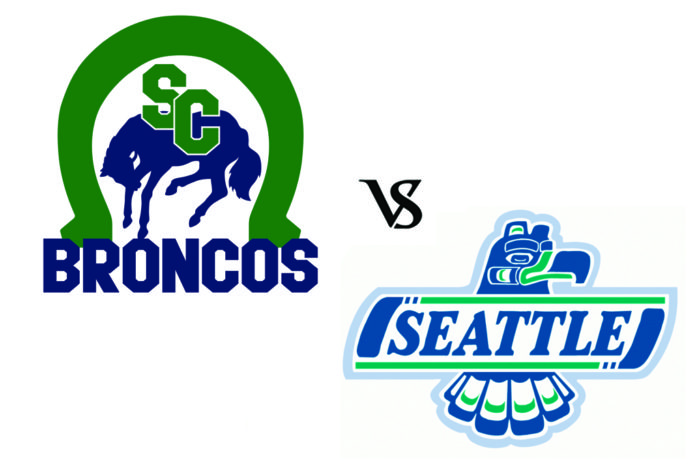 The Swift Current Broncos made a furious third-period comeback to salvage a single point in a 7-6 shootout loss to the Seattle Thunderbirds as they passed the midpoint of their five-game U.S. Division road trip.
Playing their third game in four days, the Broncos trailed 6-3 in the their period before getting goals from Tyler Steenbergen, Giorgio Estephan, and Beck Malenstyn to force overtime.
The Broncos were only able to score twice on eight shootout attempts before Turner Ottenbreit scored the winner for Seattle. It was the Broncos first shootout loss in five attempts this season.
Joel Hofer made 35 saves to fall to 5-2-0-1 for the Broncos. The rookie also stopped five of eight shots in the shootout. Dorrin Luding made 26 saves on 32 shots to improve to 7-10-1-0 for Seattle.
Steenbergen finished with a goal and four assists, followed by two goals and one assist from Estephan. Glenn Gawdin added a goal and two assists and Aleksi Heponiemi picked up three assists. Colby Sissons also scored for the Broncos.
The Broncos finished two-for-three on the power play, while Seattle was two-for-five on the man-advantage.
The Broncos moved to 33-10-3-1 and sit seven points back of the Moose Jaw Warriors for second in the WHL. Seattle improved to 24-16-4-2.
The Broncos will play their third game in three days on Sunday when they visit the Everett Silvertips in a meeting between the two stingiest defensive teams in the WHL.
Bronco Bits: Heponiemi is now third in WHL scoring with 88 points, only three points out of top spot. Gawdin is fourth with 85 points. Heponiemi extended his point streak to 27 games with 68 points over that stretch. The Broncos have scored nine goals on 18 shootout attempts this season. They have allowed four goals on 19 shootout attempts against.