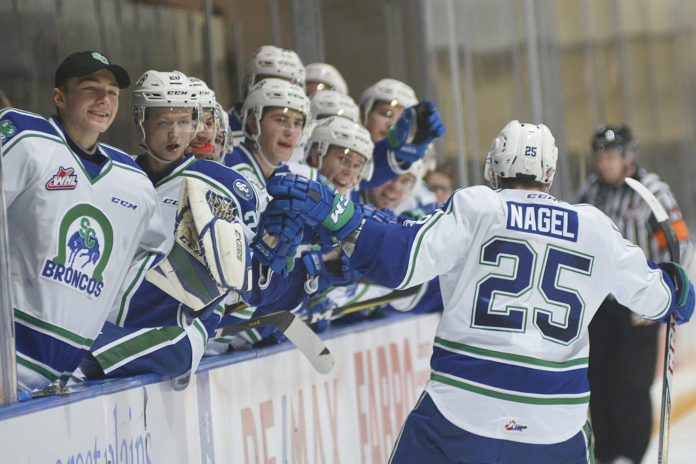 The Swift Current Broncos annihilated the Edmonton Oil Kings 9-1 in front of a sold out crowd at the Credit Union iplex Saturday.
In the Broncos first home game since the Western Hockey League trade deadline, they got goals from nine different skaters in their fourth straight win.
Glenn Gawdin, Aleksi Heponiemi on a penalty shot, Artyom Minulin, Matteo Gennaro, Max Patterson, Kole Gable, Tanner Nagel, Giorgio Estephan, Kole Gable, and Beck Malenstyn all scored in the win.
Stuart Skinner earned his second straight win since joining the Broncos with 20 saves to improve to 16-15-2-0 on the campaign.
"It was amazing," said Skinner of his home debut after being acquired from the Lethbridge Hurricanes. "First of all the fans were going crazy tonight. It was a packed barn. I could really tell that it gets pumping in here and there is a lot excitement in this town and that the fans are super passionate. I have only played two games but I absolutely love it here."
Josh Dechaine took the loss with 13 saves on 19 shots to fall to 6-5-1-2. Todd Scott worked the third period and made nine saves on 12 shots.
14 of the Broncos 18 skaters had points in the win.
"Everyone was going and everyone was working hard, so that's really good," said Nagel after his home debut. "We are gelling really well together and we are making things happen."
The Broncos improved to 31-10-3-0, second in the WHL, while Edmonton fell to 12-26-4-2 with a second straight blowout loss.
The Broncos will begin their five-game U.S. Division road trip on Wednesday agains the Tri-City Americans.