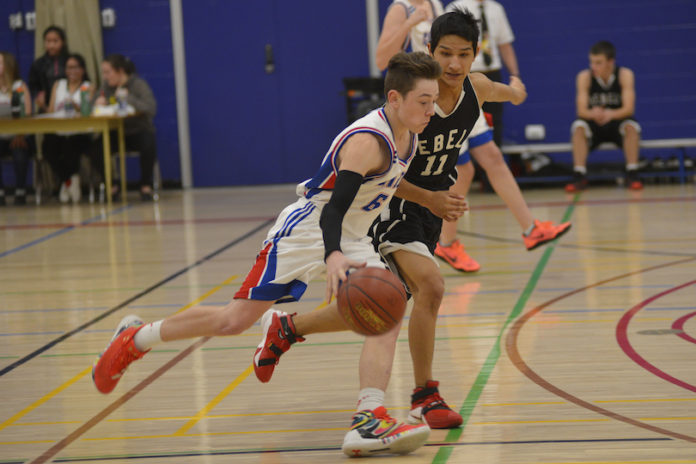 Submitted by Deb Reamer, Athletic Coordinator
The SWAC senior basketball league played their final games before the Christmas break on December 19.
The Shaunavon Silhouettes remain the only girls' team that is undefeated as they travelled to Herbert and beat the Laurels 69-35. Kortlynn Fuller led the Silhouettes with 22 points and Kerigan Stevenson added 19. Replying for the Laurels was Jewel Jacobson with eight points.
The other girls' game saw the Swift Current Comp. Junior Ardens get the home victory 65-49 over Maple Creek Rebelles. Kyla Morante had 28 points for the Ardens, while Ballie Williams added 19. The Rebelles' Angela Fritzke was the top scorer with 15 points and Alex Mason added 14.
In boys' action, it was Shadows remaining undefeated as they got the road win in Frontier 80-55. Brett Kronberg led the way for the Shadows with 18 points, while Ty Schermerhorn netted 12. Madison Bertram had 14 points for the Raiders with Gabe Martinez adding nine.
The Swift Current Junior Colts defeated Maple Creek Rebels 87-60. Ethan Riley led the way with 17 points while Tristan Urquhart-Nelson had 16. The Rebel's top scorer was Michael Mudingayi with 36 points, followed by Drake Francis with seven.
The Shadows lead the boys standings with a 3-0 record, followed by Swift Current at 2-1. Maple Creek is 1-2, while Frontier sits last at 0-3.
The Silhouettes lead the girls senior league with a perfect 3-0 mark, followed by Herbert at 2-1. The junior Ardens are third at 1-2, while Maple Creek is last at 0-3.
Junior basketball league scores from December 21:
Maple Creek girls 18 @ Shaunavon 61
Swift Current Gr 9 girls @ Wymark – postponed until Jan. 9
Swift Current Gr 9 boys 81 @ Maple Creek 28
Shaunavon boys 33 @ Gull Lake 38
Upcoming basketball games in January, 2018:
Seniors – Jan 9:
Shaunavon girls/boys @ Maple Creek; Herbert girls @ Swift Current Jr Ardens; Frontier boys @ Swift Current Jr Colts.
Juniors – Jan 9:
Swift Current Comp gr 9 girls @ Wymark.
Juniors – Jan 11:
Swift Current Comp gr 9 girls @ Maple Creek; Shaunavon girls @ Wymark; Gull Lake boys @ Waldeck; Shaunavon boys @ Swift Current Comp gr 9 boys.