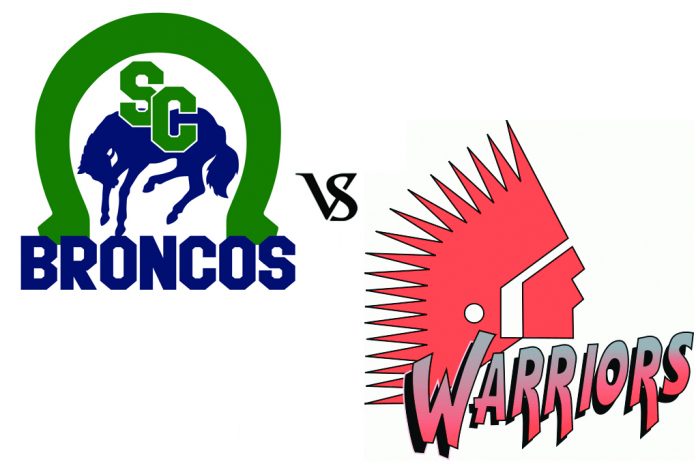 The Swift Current Broncos pulled within two points of first place in the East Division with a 7-6 overtime win over the Moose Jaw Warriors Friday.
Tyler Steenbergen tied the game with 2:26 remaining in regulation and then netted the overtime winner, his league leading 34th goal of the season. The Broncos last five games have now been decided in overtime or the shootout with a 4-1 record over that stretch.
The Broncos quickly fell behind 2-0 when Tristin Langan launched the teddy bear toss after only 2:40 and Brandan Klatt tallied 3:08 later. The Broncos responded quickly though with Matteo Gennaro's first as a Bronco, followed by goals from Aleksi Heponiemi and Glenn Gawdin for a 3-2 lead after one period.
The Warriors tied the game in the second period on a Tate Popple goal, but rookie defenseman Connor Horning scored his first WHL goal for a 4-3 Bronco lead after two periods.
The teams combined for five goals in the third period, beginning with a Gawdin goal for a 5-3 lead. Moose Jaw took the lead with goals from Tanner Jeannot, Brayden Burke, and Langan before Steenbergen forced overtime.
Logan Flodell made 25 saves on 31 shots to improve to 17-4-2-0. Brody Wilms allowed seven goals on 34 shots to fall to 16-5-1-1.
The Broncos improved to 19-5-2-0, while Moose Jaw fell to 20-5-1-1.
The Broncos are now 2-1 against the Warriors as the two teams have combined for 31 goals over 182:13 of action this season. They will rematch on Saturday back in Swift Current, which is also teddy bear toss night.
Bronco Bits: Heponiemi finished with a goal and two assists to lead the Canadian Hockey League with 64 points in only 26 games. He also leads the CHL with 46 assists. Steenbergen leads all CHL players with 34 goals and is second with 59 points after a three-point outing. Gawdin finished the game with two goals and two assists and is third in WHL scoring with 52 points. Flodell is tied for the league lead with 17 wins this season.