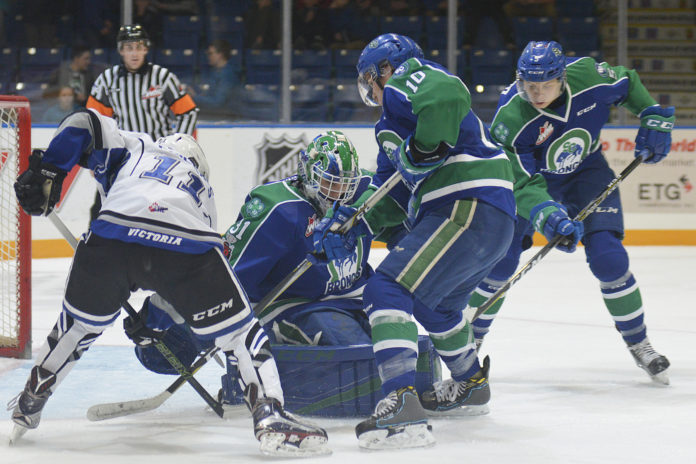 The Swift Current Broncos picked up their first overtime win of the season in a 3-2 victory over the visiting Victoria Royals Wednesday.
After the Broncos top power play unit struggled for much of the game, Glenn Gawdin scored only 11 seconds into an overtime power play when he converted a beautiful pass from behind the net from Aleksi Heponiemi.
Ethan Regnier had opened the scoring with his first Western Hockey League goal 6:54 into regulation when his rebound took a fortuitous bounce into the net off a Victoria player. Kole Gable added his first of the season on the power play for a 2-0 lead after one period.
Jared Freadrich replied on the power play for the Royals in the second period. Tyler Soy added a second power play goal early in the third period with an easy tap-in to force overtime.
Logan Flodell improved to 16-4-2-0 with 35 saves on 37 shots for the Broncos. Griffen Outhouse made 36 saves to fall to 16-5–20.
The Broncos moved within three points of the Moose Jaw Warriors for top spot in the East Division with an 18-5-2-0 record. Victoria dropped to 18-9-2-0 and are still winless after two games of their East Division road swing.
The Broncos are in Moose Jaw Friday to open a home-and-away set against the Warriors. The two teams will rematch Saturday in Swift Current.