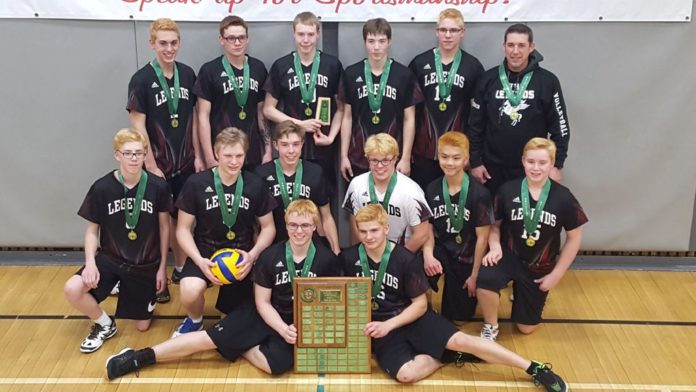 The high school volleyball season ended on a high note for the Southwest as two boys' teams captured medals at SHSAA provincials on Nov. 24-25.
Congrats goes out to the Fox Valley Legends and their coach Darren Lehmann on winning the gold medal at 2A boys in Rocanville! The Legends went through the entire tournament without dropping a set.
The #1 seeded Legends finished first in Pool A with a record of 4-0. They posted wins over Wawota (2-0), Canoe Lake (2-0), Kincaid/Ecole Mathieu (2-0) and Wilkie (2-0).
In the quarter final, they played the fourth place team from Pool B, Montmartre and beat them 25-19, 25-12. The semi final was a rematch from last week's regional final versus Hepburn. The Legends won 25-13 and 25-17. In the gold medal match, they faced Wawota and cruised to a 25-14, 25-7 victory.
Since 2001, this is the 11th time that Fox Valley boys have captured gold!! The Vanguard Valkyrs captured the bronze medal at 1A boys' provincials in Rouleau.
The Southwest was represented by two teams – Vanguard and the Leader Saints. Both teams were in Pool A. The Saints finished in fourth place with a record of 1-3. They had a win over Goodsoil (2-0) and losses to Edam (2-0), Bellevue (2-0) and Vanguard (2-0).
The Valkyrs ended up third in Pool A with wins over Leader (2-0), Goodsoil (2-0) and losses to Edam (2-0) and Bellevue (2-0).
Leader was eliminated in the quarter finals when they lost to first place from Pool B Mossbank (25-21, 20-25, 8-15).
Vanguard played #2 from Pool A Middle Lake and won 2-1 (25-15, 19-25, 15-13). They lost in the semi final to the host and eventual gold medalists from Rouleau 2-1. This set up the bronze medal match against Mossbank.
The Valkrys won a thriller 18-25, 25-21, 15-11. Congrats to Vanguard/Hodgeville and their coaches Chris Caswell and Stephen McComish!
The Shaunavon Shadows represented the Southwest at the 4A boys' championships in Humboldt. The Shadows were second in Pool B with a record of 3-1. They posted wins over Saskatoon Christian (2-0), Sturgis (2-1), Moose Jaw Vanier (2-1) but lost to Humboldt (2-0).
In the quarter final, Shaunavon played the third place team from Pool A La Loche. La Loche defeated the Shadows 2-1 and then went on to win the silver medal.
Congrats to all the Southwest teams on a great showing at provincial volleyball! The next sports on the school calendar are curling, wrestling and basketball.
In an effort to try and get more basketball officials, SWAC will be offering two clinics:
1) The SABO (Saskatchewan Association of Basketball Officials) clinic will be held Wednesday, November 29 at Swift Current Comp. Start time 6:30 p.m. This will be lecture based and intended for officials who have some knowledge of the game and rules. There is no cost to attend and no pre-registration required.
2) A beginners' officials clinic will be held at Shaunavon on Thursday, November 30. This is intended for people who wish to learn the basics about basketball officiating. Start time is 6:30 p.m. There will be a short classroom session followed by court time so please bring a clean pair of runners and a whistle. There is no cost to attend and no need to pre-register. The public is welcome to attend either clinic. The recommended ages would be 15 years and older.
The SWAC senior basketball league will be starting on Tuesday, December 5 and the junior league will start Thursday, December 7.