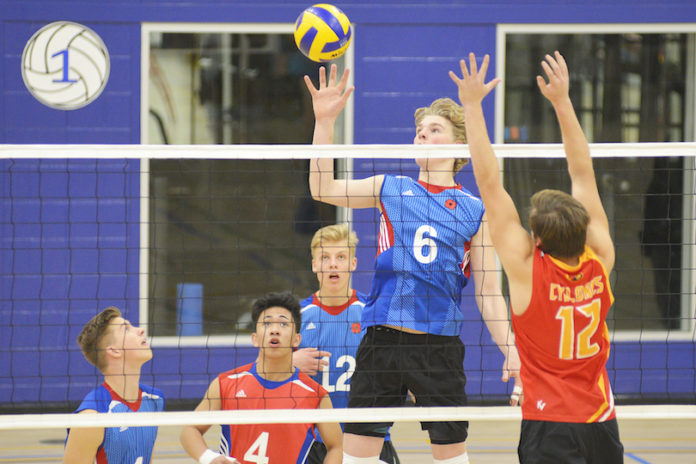 The Swift Current Comp. Colts appear ready to battle for provincial volleyball supremacy after winning the SHSAA 5A Boys Volleyball Regional South Championship on home court over the weekend.
The Colts won all four matches to advance to Provincials where they should be considered a gold medal favorite.
The Colts ran into little resistance in their tournament opener with 25-9 and 25-13 wins over the Moose Jaw Central Cyclones on Friday. They followed up with a straight sets win over the Estevan Elecs (25-11, 25-13) to conclude the opening day.
The Colts got a measure of revenge in the semi-final when they defeated the rival Balgonie Greenall Griffins. The Colts won the opener 25-15 before dropping the second set 21-25. They clinched a spot at Provincials with a 15-8 win in the third and deciding set.
The Colts met the Weyburn Eagles in the championship match and won 25-13 and 25-19.
"They played well," said head coach Dan Andrie. "We wanted to make sure our passing and serving was on point and I think we did well in those two areas. We had a couple missed serves here and there, but overall I think that part of our game was strong enough to lead us to the win."
"We played really good," added grade 12 Dayton Patzer. "Over the last week of practices I think we really came together this week and just meshed as a team. The ball flew really well from our setter's hands and the hitters put it away, so it was really good to see."
The Colts will now head to Meadow Lake for the 10-team 5A Boys Provincial Championships this weekend.
"Gold has been the goal from day one. Our athletes our definitely strong enough to do it. We just need the reps and the practice and I think we will be there," said Andrie.
The longtime coach hopes the team can capitalize on some recent momentum that the team has created.
"I think we are in a pretty good spot. I think we are rolling here the last month. We've become very coachable in the last month as well. I think our serving and passing has improved a lot, which really helps us."
"The goal is for sure gold all the way. To achieve that I think we just need passes up and we have to stay mentally focused, don't get rattled," added Patzer.
The Colts won bronze at provincials last season and entered the 2017 campaign with plenty of expectations.
"Like every year there's ups and downs. There were a little more ups than downs this year, which is nice. As a coach you are always thinking what can I do better, what can we do better. Overall, when I look back at the end of the year I will definitely say this is one of the better years we've had. But right now I am still in coach mode to see what we can try and do to improve," explained Andrie.
"Off the start we had a lot of expectations. Going through our home tournament and losing that really set us down. But I think we've kind of overcome that and realized that the pressure is always going to be there and as a team have really pulled through," added Patzer.