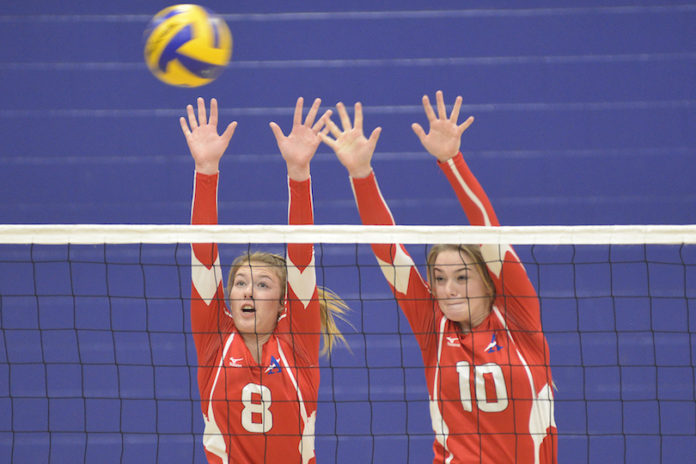 The Swift Current Comp. Ardens senior girl's volleyball team defeated five of six opponents for a silver medal, their best finish of the season during their annual home tournament over the weekend.
Unfortunately, the defending 5A provincial champions were unable to figure out a way to solve the rival Weyburn Eagles, losing both matches in straight sets to the Eagles.
The Ardens dropped the final to the Eagles 22-25 and 8-25. They had advanced to the championship match with a semi-final win over North Battleford 25-22 and 25-20.
The Ardens placed second in the round with a 5-1 match record. They lost their opener in straight sets to the Weyburn Eagles (17-25, 22-25) on Friday afternoon.
The Ardens rebounded with wins over the Junior Ardens (25-17, 25-9) and the Yorkton Raiders (25-13, 25-19). The Ardens concluded the day with a win over the North Battleford Vikings (25-22, 25-21).
Saturday, they edged the Estevan Elecs (24-26, 25-17) and took care of the Moose Jaw AE Peacock Toilers (25-11, 25-12).
"They improved and had some huge games against North Battleford where they won both of those sets in the semi-final and in the round robin," said Ardens head coach Chelsea Hassett. "We pulled out a huge win against them when they were down. Our last game against Weyburn we fell a little short, but the girls know that it is the mental part of the game and that's something that we are going to work on for next weekend when we head off to Regionals."
"I thought we played pretty well overall. This is the best we have done in a tournament so far this year. We did play very well against North Battleford," added grade 12 setter Kylie Carefoot.
The Junior Ardens placed sixth in the round robin before being eliminated by North Battleford in the quarter-final.