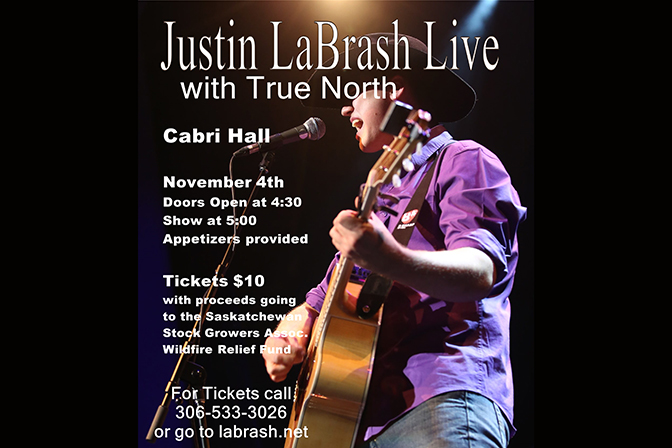 Justin LaBrash and his band True North will be travelling across the province to take the stage for a benefit concert in support of victims from the Wildfires which swept across the Southwest last month.
The country artist from Lumsden will be performing an all ages concert at the Cabri Community Hall starting at 5 p.m. on Saturday, November 4. The concert time was moved ahead from a previously announced 8 p.m.
Tickets for the concert can be purchased at a cost of $10 by calling 306-533-3026 or by visiting online labrash.net. Proceeds will be forwarded to the Saskatchewan Stock Growers Association to be distributed to the wildfire victims.
During his performing career LaBrash has taken his high energy performance from coast-to-coast across Canada. This past September he was asked to perform in the Diamonds In The Rough showcase at the Canadian Country Music Awards.
He has released a series of singles (Play, Honeybee, Hooked On You and Front Row Seat) in addition to his debut album "Roots" which was released in July 2016.
As a performer who believes strongly in building communities and "paying it forward", LaBrash has formed a partnership with the Jim Pattison Children's Hospital of Saskatchewan Foundation and a portion of the revenue he personally receives for performances is donated to the CHSF.