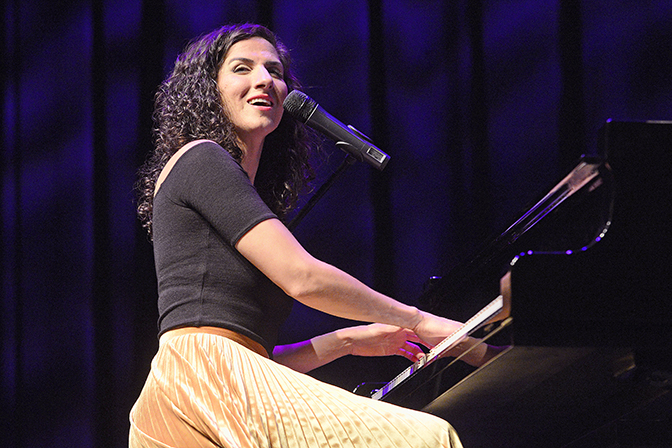 By sharing some familiar songs with a jazz twist, Laila Biali was aiming to attract some new listeners to the world of jazz during a pair of concert stops in the Southwest.
The award-winning Biali shared songs from the Great Canadian Songbook during a Monday concert in Shaunavon and a Tuesday night show at the Living Sky Casino Event Centre as part of the Swift Current Arts Council's Stars for Saskatchewan concert series.
"I have always most enjoyed playing cities and communities that are a little smaller, where you actually go to a venue, you can see the people you are performing for, you can meet with them after and say hello, and the whole experience is a little more intimate," Biali admitted during a phone interview in advance of her concerts.
She is currently in the midst of a 15-date tour of Saskatchewan, and the trip is a conscious effort to make jazz more accessible to the audiences at her shows.
"We really want to be able to provide the concert goers and listeners with an accessible entry point into the experience of live jazz. Jazz can be very intimidating. And the way that we present it, we feel, and usually audience members attest to this, is accessible and an invitation, and not at all isolating."
Backed by talented bandmates Kodi Hutchinson on bass and drummer Jon May, the trio blazed through a series of songs from Canadian talents ranging from Joni Mitchell (Woodstock), and Leonard Cohen (Show Me The Place), to k.d. Lang (Simple), and Neil Young (Heart of Gold). Wrapped around Biali's silky voice was lots of instrumental play between the trio, in a very free flowing evening of jazzy standards.
Biali shared both original material and jazz versions of songs from her catalogue of studio albums, singing Sarah McLachlan's Ice Cream, Woodstock and Autumn Leaves which appeared on her debut recording From Sea To Sky where she first delved not adding a jazz twist to familiar Canadian songs. She also performed her original song Joy plus the Daniel Langlois song Where Will I Be which appeared on her 2011 album Tracing Light, which was nominated for a JUNO in the Best Vocal Jazz Album of the Year in 2011. She delved into songs Love and Upside Down which appeared on the album House of Many Rooms recorded as Laila Biali & The Radiance Project.
She performed a special treat of a song new to her repertoire. At the start of her Saskatchewan trip she arranged The Tragically Hip song Ahead by A Century while riding in a van from Saskatoon to LaRonge as a salute to recently departed Canadian icon Gord Downie.
Biali wrapped up the Swift Current concert with a solo rendition of the song Still The One she co-wrote with Marc Jordan.
Before the launch of her tour, Biali noted these Canadian artists are worthy of spotlighting because of the incredible music they have produced.
"And why not. The artists we're covering, perhaps not every single one of them but almost, have a massive international reputation. And we are proudly able to call them our own as fellow Canadians: Joni Mitchell, Leonard Cohen, Neil Young, Sarah McLachlan, Feist, k.d. Lang, we're going to be covering a breadth of music from a huge range of writers, Bruce Cockburn, the list goes on and on."
"It's actually one reason that we've hung our hats on this Great Canadian Songbook concept."
The trio more than did justice to the originals with their creative jazz versions.
"The common thread will be a spontaneous jazz environment in which we present that music, but because the songs themselves and the artists will be familiar to so many of the listeners, they'll have something they can latch onto that I think will be an asset to them as they come on this little musical journey with us."
In addition to her current tour, Biali has also recently started hosting Saturday Night Jazz on CBC Radio 2, a four-hour jazz show which shares both jazz classics and new musical offerings.
Before her visit to the community, she also shared that she has a recently discovered connection to Swift Current.
Her parents are first-generation Canadians after immigrating to Canada in their 20s, as her mom is from Germany and her father is from Egypt. She learned only last year that one of her father's very first jobs was with SaskPower in Regina.
And then earlier this year, while talking to her parents about her Saskatchewan tour, she learned another revelation.
"It was made known to me that my dad and his mother, when they moved to Canada together in the 60s, they lived in Swift Current. They went to Swift Current!"
"My Egyptian father and my grandmother…spent time in Swift Current of all places."
"So I have this very, very deep pull in my spirit and now I can argue in my DNA, to go out and experience the beautiful City that's a piece of my heritage."