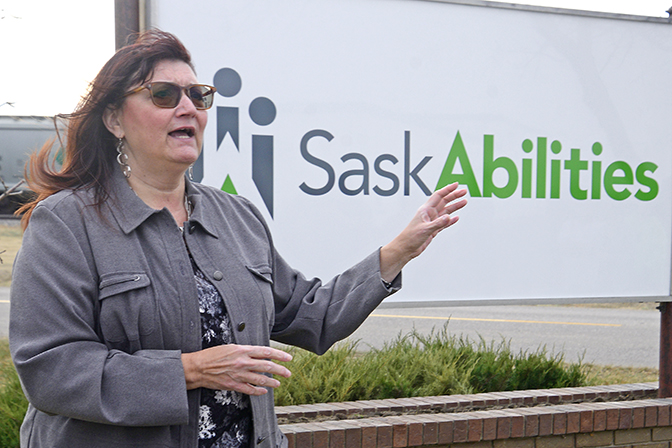 The newly branded Sask Abilities name and logo was unveiled in Swift Current and across the province this past week.
Formerly known as the Saskatchewan Abilities Council, the new name and new vision for Sask Abilities was made to better reflect their services.
"Disability does not define who people are. Ability defines who people are. And that's a powerful message and that's what we focus on," explained Kimi Duzan, Swift Current Regional Director for Sask Abilities.
The province wide unveiling marked a new chapter for the organization which was founded in 1950 and was originally known as the Saskatchewan Council for Crippled Children. Two years later it became the Saskatchewan Council for Crippled Children and Adults. In 1984 they became the Saskatchewan Abilities Council Inc. and utilized that name for over three decades.
"The Council considered several choices for names. Ultimately the board concluded that Sask Abilities, a more modern, streamlined version of the name would not only maintain our history but would explain who we are and who we serve," Sask Abilities President Andy Livingston explained during a video conference announcing the change. "The board also felt it was time to update the organization's name to better capture the focus on abilities."
Sask Abilities has become a provider of rehabilitation, employment, quality of life, recreational services to both children and adults in seven Saskatchewan communities. They are situated in Regina, Saskatoon, Swift Current and Yorkton, plus they operate a Special Needs Equipment Depot in Prince Albert, a Partners in Employment Office and Supported Living Program in Moose Jaw, plus Camp Easter Seal at Manitou Beach.
Livingston also explained the reason behind the change of their mission statement and vision statement.
"The board wanted to create a vision statement that would inspire staff members and clients to create a world where people of all abilities participate equally in their community."
"As an individual with a disability, my dream is for a society that does not recognize disability, but values abilities of each and every one of us."
Duzan said the changed name and logo better reflects their impact in the communities they serve.
"I think our presence is increasing. I think we're growing as an organization in terms of our own diversity, and in terms of the services we provide."
"It's all about community. It's all about inclusion and helping connect each individual to their interest and an opportunity. I like to think we're connectors of people and opportunity."
Additional details of the new logo and name can be found online at www.saskabilities.ca.