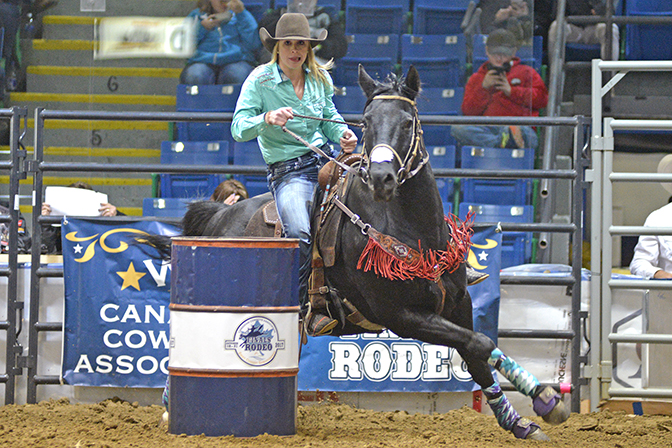 Southwest cowboys and cowgirls continue to challenge for top spot in many of the events after day two of the Canadian Cowboys Association Finals in Swift Current.
Maple Creek's Jannae Wilson leads all Junior Girls Barrel racers after she won on Thursday in 12.95 seconds for 40 points, giving her 70 after two rounds.
Sydney Windjack, also from Maple Creek, was secondd in 13.02 seconds and now sits third with 50 points. Logan Resch (Maple Creek) was third in 13.03 seconds and sits second with 60 points after winning round one. Cassidy Gordon, the fourth cowgirl out of Maple Creek, was fourth 13.38 seconds and now has 20 points in fourth sport in the event.
Val Marie's Colt Kornfeld had one of two qualified rides in Junior Steers on Thursday. He scored a 81 to win the event and took the lead with 60 points.
Abbey's multi-event cowboy Blake Smith scored 69 points on Bumblebee to win Novice Bull Riding and now leads the event with 70 points.
Maple Creek's Mike Gordon was one of the standouts on Thursday when he rode Split Decision for 78.5 points to win Saddle Bronc to move into third spot. Maple Creek's Adam Gilchrist placed fourth with 72 points on Party Code and sits second with 50 points in Saddle Bronc.
Local favorite Blaine Switzer thrilled the hometown crowd with a win in Tie Down Roping in 9.6 seconds. The veteran of over 30 Finals appearances is now second with 40 points. Waldeck's Tuftin McLeod tied for fourth spot in 10.1 seconds.
Maple Creek's Tanner Jones worked with Taylor Wudrich to win Team Roping in 7.1 seconds to move into second spot with 50 points. The Waldeck duo of Tee and Scott McLeod placed second in 7.5 seconds and lead the event with 60 points. Hazenmore's Chanse Switzer and Garrett Brownlee were third in 8.1 seconds and now have 20 points.
In Bareback, Maple Creek's Brady Bertram finished second in round two with an 80-point ride on Snap Chat for 30 points. He sits second overall with 40 points. Consul's Monty Koopman was fourth with a 76-point rode on Holy Smoke. He sits third with 30 points after two rounds.
In Ladies Barrel Racing, Mankota's Karli Cowie was fourth in 12.85 seconds on Thursday and sits tied for fourth with 30 points, only 10 points back of the lead.
Val Marie's Riley Hayes got into the points in Steer Wrestling in fourth spot in the second round in 16.8 seconds.
The CCA Finals will continue Friday with round three at 1 p.m. for the Novice and Junior events and the main performance at 7 p.m.