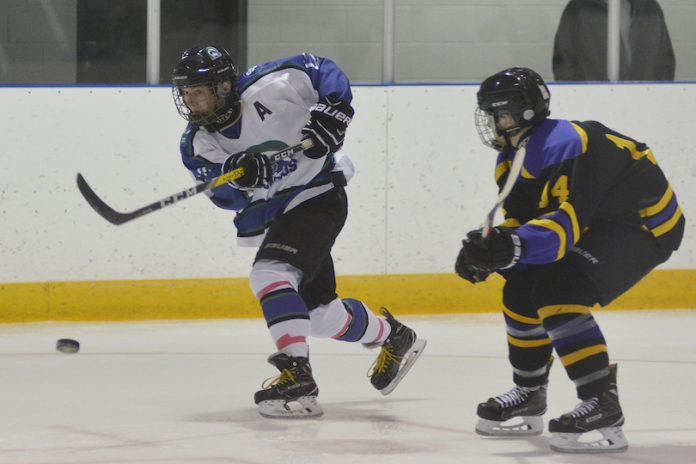 The Swift Current Abbey Resources Broncos got out to an unbeaten three-game start during their opening weekend in the South Saskatchewan Midget AA Hockey League.
The Midget AA Broncos opened their season with a 4-4 draw against the host Estevan Bruins Friday. The Broncos trailed 3-0 after two periods but scored four of the five goals in the third period, including a shorthanded goal from Beau Larson with 48 seconds left on the clock to tie the game.
Larson finished the game with two goals, while Ryland Hornung added a goal and an assist. Rhett Evjen also scored, while Levi Lamotte and Aaron Wittmier added assists. Brad Nyen earned the win as the Broncos were outshot 38-30.
The Broncos got into the win column with a 4-1 victory over the Estevan Bruins Saturday. Riley Dekowny led the Broncos with a goal and an assist, while Riley Skarbon, Colt Kornfeld, and Quinn Patenaude also scored.
JC Knight, John Priela, Larson, Lamotte, Brock Herter, Evjen, and Hornung all added assists and Jacob Herman earned the win in goal.
Sunday, the Broncos made their home debut and defeated the Lumsden/Bethune Lions 3-2. Herter, Matthew Christianson, and Hornung all scored with assists from Nathan McInnis, Knight, Larson, Dekowny, and Wittmier. Nyen earned the win in goal.
The Broncos host the Prairie Storm for two games this weekend on Friday at 8 p.m. and Saturday at 10:45 a.m. at Fairview West Arena.