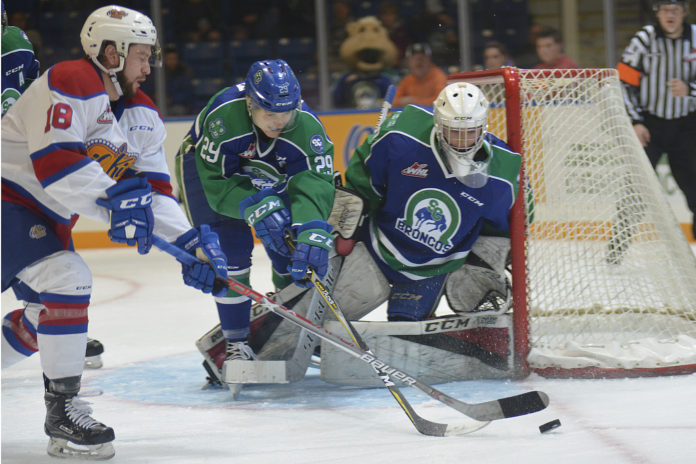 The Swift Current Broncos eight-game winning streak to open the season came to a stunning conclusion Saturday when they allowed three goals over the final 7:06 to fall 4-3 to the visiting Edmonton Oil Kings.
The third-period collapse culminated with 18.8 seconds left when the Broncos watched Brett Kemp skate past them for a breakaway goal.
"It has kind of been a combination of things over the past few games," said defenseman Colby Sissons. "I think we've let things go to our head a little bit. We've been struggling in our own zone. A team that might not be as good as us came and beat us tonight."
The Broncos took a lead to open the contest for the eighth time in nine games when Glenn Gawdin took a pass from Tyler Steenbergen in the slot and buried his seventh goal of the season with 6:27 left in the opening period.
The Broncos nearly escaped the period with the lead but a regrettable pass from Aleksi Heponiemi resulted in a shorthanded breakaway goal for Kemp with only 13 seconds left on the clock.
The Broncos earned some breathing room in the middle stanza with two goals. Heponiemi finished off a pretty three-way passing play from Steenbergen midway through the period and then Sissons scored on the power play with 1:11 left in the period for a 3-1 lead.
The Oil Kings made it a one-goal game in the third period when Davis Koch scored on the power play with 7:06 left in the contest, his fourth goal of the season. They tied the game 2:06 later when Kobe More's shot from the slot deflected up and over Hofer.
Hofer dropped to 1-1-0-0 with 31 saves on 35 shots. Former Bronco Travis Child made 19 saves to even his record at 3-3-0-0.
Steenbergen's seven-game goal scoring streak came to an end, but he assisted on all three goals and leads the WHL with 16 goals and 25 points in nine games.
The Broncos continue to lead the East Division with an 8-1-0-0 record, while Edmonton improved to 4-6-0-0.
The Broncos now have five days off before they visit the Lethbridge Hurricanes on Friday.