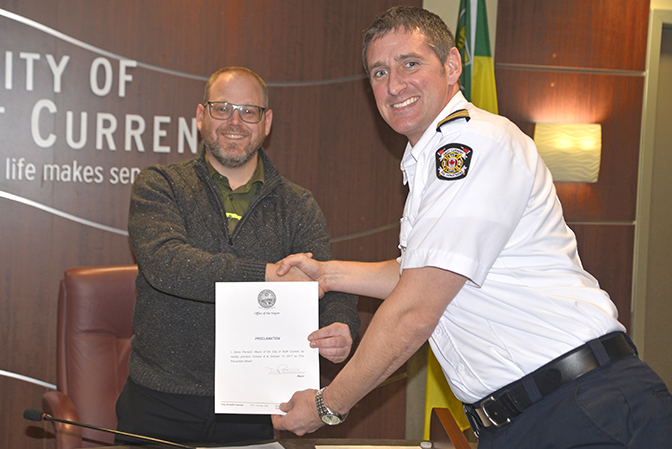 Planning two fast and safe escape routes out of your home in case of fire is the key focus of Fire Prevention Week 2017.
This year's Fire Prevention Week theme is "Every Second Counts – Plan Two Ways Out!", and the Swift Current Fire Department is encouraging homeowners to practice home fire escape drills twice a year.
"In a fire seconds do count," Deputy Fire Chief Pete L'Heureux explained to Swift Current City Council on Tuesday night. "Seconds can mean the difference between a resident of our community escaping safety from a fire, or having their lives end in tragedy."
"The message Every Second Counts – Plan Two Ways Out is so important because it reinforces why everyone needs to have an escape route."
Swift Current City Council proclaimed the week of October 8 to 14 as Fire Prevention Week in the City of Swift Current during their October 10 meeting.
L'Heureux noted that during this week they are promoting Fire Prevention Week to Swift Current schools, and they will reach approximately 1,300 students in Kindergarten to Grade 5 with this important safety message.
"Throughout the year the Fire Department maintains a variety of fire prevention and education initiatives, and we believe strongly in the prevention of accidents, incidents and emergencies," he said.
The week also serves as a reminder for everyone to map out and mark the exits of your home, and teach children how to escape on their own in case you are unable to assist them.
L'Heureux informed council there is not one specific main cause of fires in Swift Current, but pointed out that electrical fires and kitchen fires are among the more common causes. Electrical fires can be caused by a variety of reasons, including problematic issues when people do home electrical projects or renovations.
He noted that kitchen fires can occur quickly, as in today's busy households it is easy to get distracted during meal time.
"In our busy lives we get cooking, we get doing things, and then maybe our attention isn't on the stove where it should be when we're trying to get supper made."
"Slowing down a little bit in our lives maybe when we're cooking or paying a little more attention and don't multi-task."
"The electrical stuff is a little bit harder, but that usually falls down to the same message you'll hear us say all year long – check smoke detectors, change your batteries."