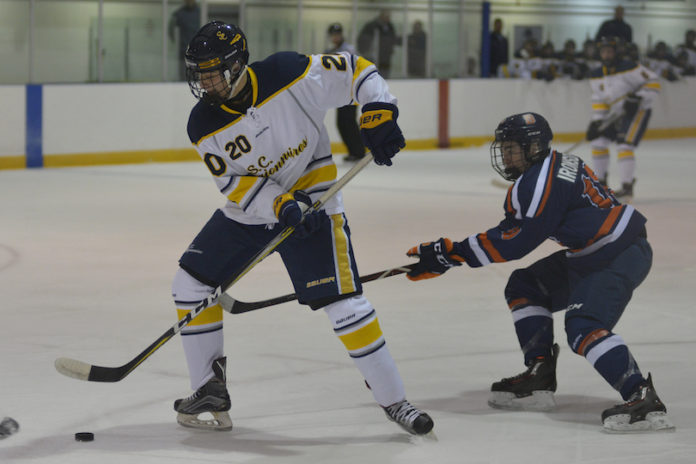 The Swift Current Home Hardware Legionnaires picked up in the regular season where they left off in the pre-season with a 6-2 win over the Saskatoon Blazers Sunday.
The Legionnaires had won six straight games to conclude the Saskatchewan Midget AAA Hockey League pre-season before winning their regular season opener at Fairview Arena.
Veteran forward Jacob Piller led the way with a hat trick for the Legionnaires.
"I thought we played good in their end. We were getting pucks to the net and just capitalizing on our chances," said Piller.
The power play was one area of strength for the Legionnaires in the win with two goals on the man-advantage.
"We have got lots of skill on our power play. I think we will be good all year. We have lots of skilled guys that can put the puck in the net," said Piller.
Piller opened the scoring with a power play goal 2:07 into regulation, made it 4-1 with a goal late in the second period and then closed the scoring with a rebound goal late in the third period.
"I played on a good line tonight. My teammates were getting me the puck in good spots, so I have to give lots of credit them. Things were just going in."
Owen Ozar added a goal and two assists, while Lucas Ochitwa had three assists. Mason Strutt chipped in a goal and an assist and Hunter Lamb registered two assists. Ty Muench also scored, while Mkyllan Couture, Jerzy Orchard, and Rhett Stevenson all added single helpers. Returnee Cody Levesque got the win with 26 saves.
Piller and his teammates are hoping to end a long playoff drought this season.
"Yeah for sure, I think we are going to be really good this year. I think we have a lot of returning guys and I just don't see why we couldn't this year. I think we have a really good chance," he said.
The Legionnaires are back at home Wednesday to host the Moose Jaw Generals at 8 p.m. at Fairview West Arena.