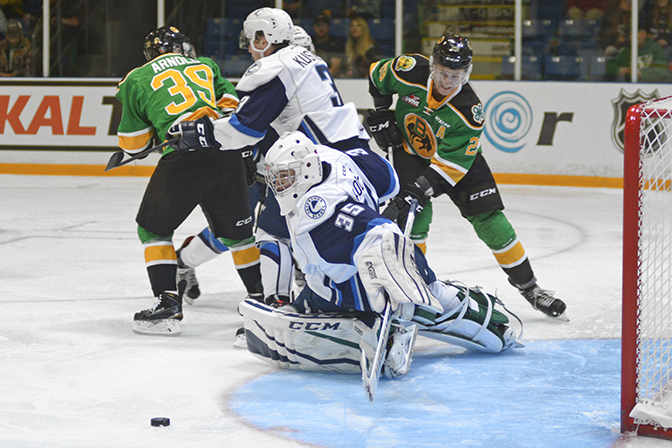 For the second straight season the Swift Current Broncos have landed an overage goaltender to bolster their roster after reaching out to the Saskatoon Blades to acquire 20-year-old Logan Flodell.
The Broncos parted with a second round pick in the 2020 WHL Bantam Draft along with a fifth round pick in the 2019 draft in order to acquire the veteran netminder.
"Flodell is a sound player and we are happy to have him join our hockey club," Broncos Head Coach and Director of Player Personnel Manny Viveiros stated in a press release. "He brings a lot of experience in this league and is a welcomed addition to the Broncos."
In a pair of preseason wins this year Flodell boasted a 1.50 goals against average and a .957 save percentage.
Flodell started his WHL career with the Seattle Thunderbirds before taking over the starting net minding duties with the Blades last season. He posted a 22-20-4-0 record and a .912 save percentage and a 2.81 goals against average with Saskatoon during the 2016-2017 season. During his career he has appeared in 100 games, posting a 48-35-8-1 record and a .907 save percentage, with six shutouts. He has only a single game of WHL playoff experience.
At last year's trade deadline, the Broncos acquired overage goaltender Jordan Papirny and a fourth round draft pick in 2018 from the Brandon Wheat Kings in exchange for 19-year-old veteran goaltender Travis Child, 19-year-old defenceman Kade Jensen, plus a second round draft pick in 2019 and a fifth round pick in 2018.
The Broncos open the season on Friday in Saskatoon when they take on the Blades at the SaskTel Centre.