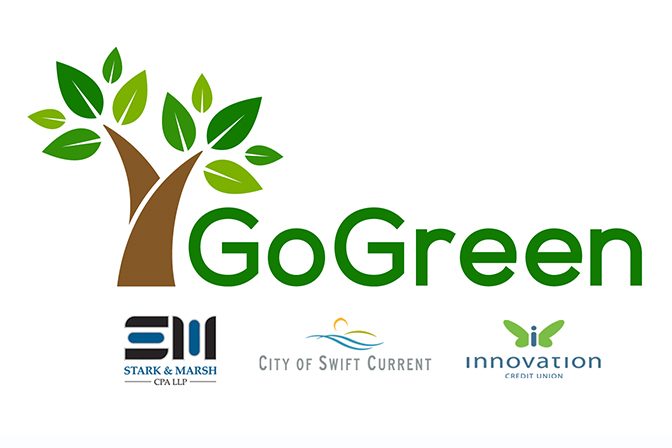 Volunteers still have an opportunity to participate in a series of beautification projects around Swift Current tomorrow during Go Green 2017.
Stark & Marsh and Innovation Credit Union are hosting the ninth annual Go Green Friday on September 15, and additional volunteers can still lend a hand during morning or afternoon shifts.
Projects are planned in conjunction with the City of Swift Current, Friends of the Walkway, plus the Swift Current Creek Watershed Stewards. Volunteers will be busy planting 73 trees, 145 shrubs, and 500 perennials.
"We're in the early stage for prepping all of the sites for the 2019 Western Canada Summer Games. So that consists of lots of trees and shrubs, and then we're actually planting quite a lot of perennials this year as well. Ultimately we could use an extra set of hands in planting," explained Ashley Belon, Marketing and Communication with Stark & Marsh.
People who want to register in advance can volunteer online by clicking the Community tab at starkmarsh.com or call 306-773-7285 and register with Janice or Ashley.
Volunteers can also turn out at 8:30 a.m. on Friday and sign up at the registration desk at Market Square.
"Even if you haven't signed up to volunteer we would still welcome you at registration that morning. So even if we didn't know you were coming, we would still find a place for you to go."
For participants, Go Green volunteering is a rewarding way to give back to the community.
"So it's just about getting as many hands on deck for this one day to go above and beyond for our community and accomplish those really big projects that really they would only be able to dream about but now we've got the opportunity to execute those ideas with all of our volunteers."
Go Green participants will be invited to participate in a group photo at Market Square at 11:45 a.m. in advance of a noon Taco in a Bag luncheon. Volunteers eat for free, and community members wishing to join in for lunch can eat for a $5 donation. All proceeds from the luncheon will be donated to Southwest Crisis Services. Bakersfield will be providing live music during the lunch.
The afternoon kicks off at 1 p.m. with a ceremonial tree planting at Memorial Park in celebration of Canada's 150th birthday. Volunteers will then complete the afternoon projects from 1 p.m. to 4 p.m.
The event goes rain or shine, so volunteers are reminded to dress for the weather conditions.