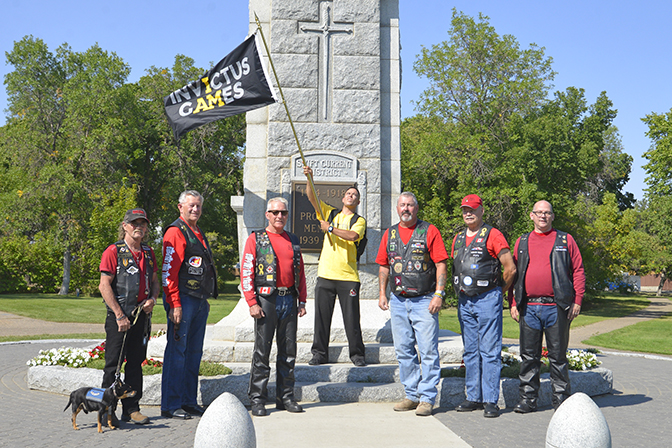 A focus on supporting Canada's wounded warriors was highlighted during the Invictus Games National Flag Tour which stopped in Swift Current on Monday afternoon.
Swift Current was one of the stops on the coast-to-coast Flag Tour which includes stops at 22 military bases, 15 Legions and over 50 communities in advance of the 2017 Invictus Games in Toronto on September 23 to 30.
The Invictus Games were established in 2014 for the benefit of wounded and injured active duty military personnel and veteran service members. This year's event has attracted 550 competitors from 17 nations for an eight-day competition in a dozen activities (archery, athletics, cycling, golf, indoor rowing, Jaguar Land Rover Driving Challenge, power lifting, sitting volleyball, swimming, wheelchair basketball, wheelchair rugby, wheelchair tennis).
Canada's 90 athlete delegation consists of individuals who acquired a physical or mental health injury or illness while in service. Individuals were chosen in part for their skill level, but also for the benefits they will experience while preparing for the Games and competing in Toronto.
And it is these inspirational stories of strength and resilience from Canada's wounded warriors that the Invictus Games hopes to share.
Corporal Daniel Goncalves, who is currently posted at 17 Wing Detachment Dundurn, served as the flag bearer for tour stops in Swift Current and Monday. He volunteered for the opportunity to help promote this beneficial opportunity for his fellow soldiers.
"I'm honoured and humbled to be part of it," he said. "It's inspiring. I've had friends in combat missions who actually lost limbs. And the athletes in these Games they inspire us to do better on our own too, and basically persevere and push ourselves past our limits, because these people are doing it with a lot less."
As an avid runner, Goncalves recently recovered from a leg injury, and is now competing again after a year of being unable to run.
"It is nothing compared to what these people have gone through," he admitted. "In my own struggles, I look at my friends for support who've been through worse. And they kind of helped me to get where I'm at."
"It shows that if you push yourself, and if you have that support and the connections that we have with each other, you can accomplish anything."
Accompanying the flag from a Monday morning event at CFB Suffield were members of the Coriano Ridge Unit of the Canadian Army Veteran Motorcycle Units, 3rd CAV based in Medicine Hat.
Group member Arnie Macauley was the flag bearer from Suffield to Swift Current, and said his own military experience has made him a strong advocate for events like the Invictus Games. His last posting of a four decade long military career was an eight month tour in Afghanistan.
"For me, I was in the military for 40 years when I went over there (Afghanistan). So I'd seen a lot. I did 30 years in Search and Rescue, so I met a lot of people having the worst day of their life. So I was a little more used to it than some of them, so I tried to help them get through some of those trying situations. And even after they got back, they see things they've never seen – or thought they would ever see in their lives – and sometimes it's hard to get that out of your head."
"When I came out there was a lot of problems because we had a lot of casualties. A lot of the guys I was over there with were having problems."
He said the Canadian Army Veteran Motorcycle Units serve as a support group for veterans, they provide an opportunity to assist other military support groups, and they get members active in benefiting the communities they live in.
"We've got guys in our Unit who have PTSD, so it's a great support for them. It's just the other guys. Guys that have been through the same sort of thing in their lives."
Macauley said it was easy to get behind the Flag Tour event.
"A thing like Invictus Games, we definitely support anything they wanted us to do for that."
The Invictus Games will feature teams from Afghanistan, Australia, Denmark, Estonia, France, Georgia, Germany, Iraq, Italy, Jordan, New Zealand, Netherlands, Romania, Ukraine, United Kingdom, United States along with the host Canada team.
Invictus is Latin for unconquered, so the Games feature adaptive sports which allow currently serving members or military veterans to compete in sport and physical activity during their rehabilitation journey.