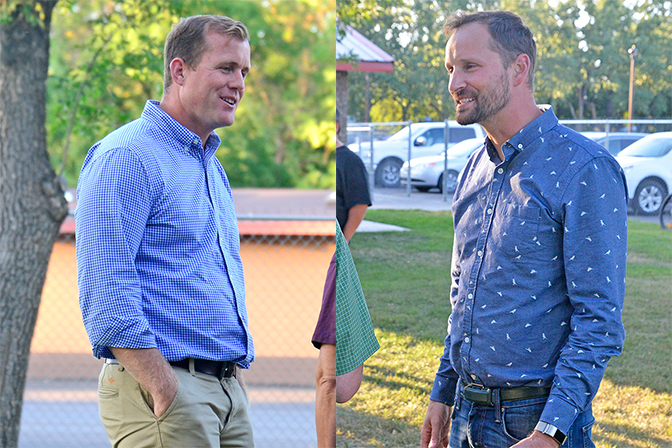 The first two hopefuls in the Saskatchewan New Democrats leadership race had a chance to visit with local supporters during a Swift Current NDP Constituency BBQ on August 21.
MLAs Ryan Meili and Trent Wotherspoon attended the BBQ during one of the early events on the leadership campaign trail. The Saskatchewan New Democrats will select a new leader at a convention in Regina on May 6, 2018.
This past week Wotherspoon announced his candidacy after serving as the interim leader after Cam Broten stepped down following the 2016 provincial election. Meili, who was elected in a by-election on March 2 of this year to serve as the MLA for Saskatoon Meewasin, was the first candidate to enter the race.
Both note that the political landscape is changing, both in Swift Current and across Saskatchewan. With Premier Brad Wall's intention to step away from provincial politics after the Saskatchewan Party elects a new leader in January.
"We look forward to it. I think it's a really important time for us to have this discussion," Wotherspoon said of the pending by-election to fill Wall's MLA seat.
"Frankly we see it as a time for us to all rally to really stop some of the damage by way of what's happening to our classrooms and the sell offs of our Crown Corporations. It's an important time to send a message to say enough is enough and there is a better way forward."
He suggested that Wall's stepping down gives licence for local people to be vocal about their concerns.
"I know there's many throughout Swift Current that are hugely concerned by the privatization, by the sell-off of our Crown Corporations. They recognize what they mean to us economically, fiscally. They recognize what they mean in their own lives by keeping rates low. So this would be a tremendous loss for Saskatchewan people."
Meili expects that both he and other NDP members will be in Swift Current to continue the momentum of a series of summer long rallies and continued opposition to the provincial budget.
He points to a change in people's attitudes following the budget the SaskParty handed down.
"People are seeing that the SaskParty is not working for their best interest and they're looking for something," Meili said.
He also pointed out that immediately before Brad Wall's tenure as MLA, Swift Current was represented by NDP member John Wall from 1995 to 1999.
"It is not by any means a guarantee that this seat remains in the hands of the SaskParty. And we'll certainly be seeking out a great candidate and fighting in the by-election to make sure the people of Swift Current get a chance to vote for someone who represents their best interests."
Both Meili and Wotherspoon intend to be busy on the campaign trail during their respective leadership bids.
"It's an exciting time to rally New Democrats and to grow the movement, grow the party, bring new and young people into the fold to fight back," Wotherspoon said.
"It's critical as well that we describe the future of Saskatchewan that we're working for. That we lay out the vision and the plan that will certainly not just excite New Democrats but that will excite our province."
As an educator, Wotherspoon continues to be motivated by the students at significant risk that he worked with over the years.
"At a time where we rally to fight for education, but then also build the future of education in Saskatchewan, I feel that I'm in a strong position on that front."
He also pointed to his experience as a three-term MLA for Regina Rosemont and the relationships he has built across the province during a decade in politics since being elected in 2007.
"I look forward to leaning on those people, those communities, to build a plan for the future but also to be able to deliver it."
"I'll certainly have a heavy and strong focus on the economy of this province. Right now far too many are feeling the impacts of a weakened economy. So far the SaskParty's approach of late has been to sort of chase precarious employment, low wage employment, to shift to sort of an out-sourced, privatized Saskatchewan. And that's not the kind of Saskatchewan that's going to give us strength. Our Crowns are essential to that. Adding new industry and adding value wherever we can in this province is important."
He continues to have concerns over the impacts of the spring budget and the current financial state of the province.
"Its a real mess right now. And there's a lot of damage and a lot of hurt. And this is a government that has not just created a fiscal deficit, they don't just have a deficit of dollars, they have a deficit of decency in the choices they've made this year. It's just unfathomable that you would have a break or a giveaway for your biggest corporations, at the same time as you rob students of the resources they need, at the same time as you cut needed supports for the most vulnerable in our province."
Meili, who previously sought the party leadership in 2009 and 2013, said he once again has put his name in for the leadership in hopes of sharing his ideas for Saskatchewan's future.
"I'm wanting to put forth a vision of what I see as the possibilities for our future, and put forth an alternative. It's not enough for us to just point out the problems with the SaskParty, we actually have to able to say here's the type of points we could be."
Central to his platform are a series of healthcare ideas which he has expressed in his book, A Healthy Society: How a focus on health can revive Canadian democracy.
"As a family doctor I was trying to help people to be as healthy as possible and realized that the decision made at the political level are actually what had the biggest influence on whether people would be healthy – how much money people make, how far they go in school, whether they have a decent place to stay."
"And that's what drove me to be in politics. And what is driving my desire to be leading the party in that direction is that framework of looking at our policies – whether it's in economics, or justice, or eduction – through the lens of what will make the biggest difference in the quality of our lives."
He too is concerned with the situation facing Saskatchewan after the spring budget.
"You see a government that's making decisions that actually undermine our health. By cutting health and education that makes us less likely to be well. And by making some of the decisions they did in the economy, when you cut health and education it actually slows the return on a struggling economy. So we don't have the economic well being in order to have the physical well being. So its been really frustrating as somebody who has in mind the best for the people of the province to watch such poor decisions being made. Decisions that really demonstrate a lack of understanding of economics and a lack of understanding of the needs of the people of the province."
He said the upcoming amalgamation into a province-wide health authority is also a concern.
"That's going to be really interesting to watch and I'm going to be paying close attention."
"I'm concerned about these guys, the SaskParty, making such a big decision in a time of a lot of chaos – big budget cuts, struggles that they are having to manage the province – that they would at this time make such a big change in management when it hasn't been shown to save money anywhere else its tried. They did it in Nova Scotia, they did it in Alberta, they didn't save a dime. But, that kind of chaos, that kind of sudden change, I think opens the door for them to do more privatization, lay off more people, and that's the real concern I have."