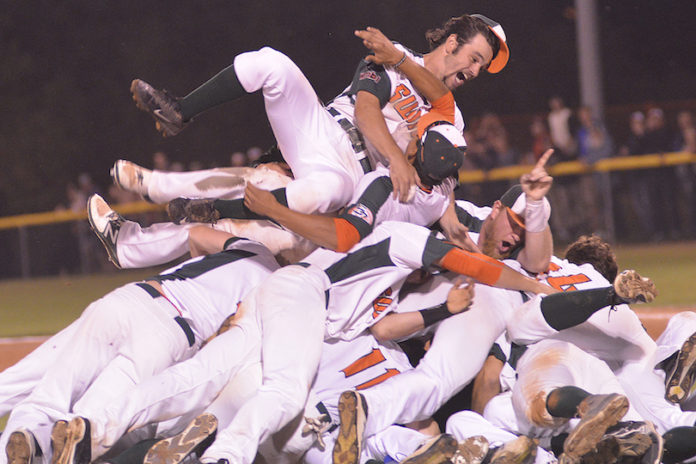 The Swift Current 57's opened the Western Major Baseball League season by honouring all of the league and provincial champions from Swift Current by introducing each team at Mitchell Field prior to their home opener.
Two and a half months later it was the 57's who celebrated a second straight league title on the field well into the night after a 4-0 win over the Edmonton Prospects in game five of the championship series.
"Awesome, absolutely awesome," said longtime coach Joe Carnahan. "The city has been phenomenal, the support we've received this year has been unbelievable. It's just an exclamation point tonight. These guys battled. These guys came back from an 0-2 deficit and then they battled back and won a game five here. That speaks a lot about their character and how bad they wanted it."
Starter Matt Michalski came up with an incredible performance, allowing only five hits while striking out six over nine shutout innings on short rest.
"It's great, but it's not about me or anything. It's about the team. I was just glad I was able to have a great performance on the right night," said the 6'5'' native of Mansfield, TX.
"It's unbelievable," added Michalski as he teammates and fans celebrated around him. "This is the reason we come up here, to win a championship. It's just awesome that we got to experience this feeling."
"I've never won a championship before," added outfielder Nick Canas, who tripled to lead off the eighth inning to score the final run, during a two-hit outing. "This crowd was awesome for us tonight. I can't explain this feeling. It's incredible."
Thursday's win marked the fifth time the 57's were playing for their playoff lives.
"They just wanted it," said Carnahan. "They weren't going to be denied. They wanted it. They were here, and they just, I can't say enough about them. It was unbelievable what they did this year."
"It just shows the talent that keeps coming back and the will for each and every one of these players to keep fighting. We were down both of these last two series and came back, so that's huge for us," added Canas.